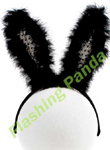 "We specialize in LED light up consumer novelty items," says Daniel Odulo, founder of Flashing Panda, a wholesaler that promises on the company website to provide, 'Stuff That Lights Up!' "Our line consists of three main departments: lighting items such as key chains, flashlights and bulbs; party favors and light up toys; and flashing wearables, such as hats, jewelry, etc. The headwear collection is some of our most popular merchandise. Retailers can review the entire line on our website," explains Odulo. The company website features an extensive array of light up products, and a retail section for customers looking to purchase a single item. Retailers, however, can access a separate wholesale section, offering bulk and case lots at wholesale prices.
Headware and Hats for a Flashy Look
Flashing Panda's headwear collection offers a new, fun and flashing identity for customers looking to change up their style. Among the products offered are a cowboy hat, top hat, an assortment of bunny ears, and the increasingly popular Mohawk. "The Mohawk is designed to be worn like a wig. It reminds me of the crest of feathers on a parrot's head," mentions Odulo. Offered in bright colors, the Mohawk stands out among a crowd, but once the battery pack is turned on, the multicolor flashing lights within the hair strands make even more of a statement. Retailers can carry an assortment of hats, spending no more than $5 wholesale apiece. "The average wholesale cost of merchandise in this line is $2 to $5. Retailers can expect to sell each hat anywhere from $4 to $15 retail," notes Odulo.
There is no minimum order required, and items are sold individually, as well as in small lots or a full case. Retailers just need to create an online account and start shopping. "Quite a few of our products come prepackaged in display boxes for quick sale," Odulo says. However, the hats are displayed best on standard wall mounts or busts.
For more information:
Flashing Panda
184 E. Sunnyoaks Ave.
Campbell, CA 95008
Toll Free: 877-357-2632
Website: www.flashingpanda.com