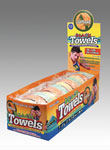 When you are backpacking, every ounce counts. That is why Lightload Towels, which come in a package the size of a hockey puck and weigh in at .5 to .6 ounces, have become so popular with the hiking crowd. Founder George "Wideload" (his trail name) Wheeler knows this as a hiker himself. At a mail drop on the Appalachian Trail in 1999, Wheeler picked up a care package with a similar towel inside. "I had never seen anything like that before, a towel that was easy to carry in your pack." Three years and many steps later, the product was launched.
Lifetime use
Made of highly absorbent and quick-drying 100% viscose, the towels can be used for cleaning up or drying off, to bandage cuts, or as insulation against the heat or cold. They also function as survival gear for starting fires when there is no dry kindling to be found. After the hike, they are sturdy enough to throw in the wash for the next trip, or at such a low price they are easy to leave behind. The biggest plus of the product is that it can be used in an emergency. "The packaging is so tight and waterproof, it lasts and lasts," Wheeler points out. "You can throw them in your bag and you might use them a year later, but you still have a nice, clean towel."
Lightload Towels come in two measurements, 12×12″ and 12×24″, with packages of 50 selling for $22 and $41.50 wholesale, respectively. Keystone markup is suggested. Three-packs of the 12×24″ size wholesale for $2.50 and suggested retail is $5. Also available are two-packs of the 12″ size, which wholesale for $.83 and suggested retail is $2.
For the beach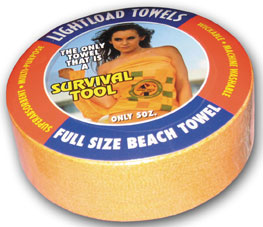 The company's other offering is a beach towel that is small enough to fit in a back pocket, and porous enough to absorb nine times its weight in water. It is the size of a greeting card after use, and unlike ordinary towels, the product can easily be wrung out until it is almost dry. Adults appreciate the beach towel's ease of use and convenience, while kids think it's cool and want to give it to their friends as a birthday party favor. The wholesale price is $4.35 and suggested retail is $9.95. The Lightload beach towels measure 36×60″ and are also available in 12-packs for $52.20 wholesale. There are no minimum orders. First time domestic orders receive free shipping.
Lightload Towels
Tel.: 888-544-4856
Website: www.lightloadtowels.com