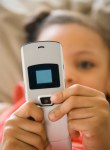 Valpak, the company behind those familiar direct mail coupon books offering deals at local merchants, is trying a new channel for delivering discounts — mobile.
Valpak is now offering its coupons via the junaio augmented reality app, InternetRetailer reports. Consumers who download the free app to an iPhone or Android device and select "Local Coupons by Valpak" will be able to access discounts to use at businesses near their current locations. The app launches the smartphone's camera and uses a device's GPS functionality to overlay on the camera view a set of icons that display the available Valpak coupons in the vicinity as the consumer holds their phone up and scans their surroundings. The app scans for deals between five feet and 20 miles away, and the coupons and offers pop up on the user's mobile screen.
"Providing Valpak content on the junaio platform extends the reach our advertisers achieve when they purchase Valpak advertising," Nancy Cook, vice president of new media business development at Valpak/Cox Target Media, told InternetRetailer. "Our content distribution strategy is to be everywhere consumers look for savings."
More on this story can be found HERE.