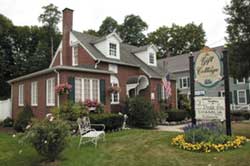 Since 1991, the Gift Cottage has been a retail landmark in downtown Bethel, Connecticut. Co-owner Joan Craybas began her retail career with a flower business. She ran it successfully from her home for seven years before partnering with her son, Bob, to open her "dream store." When her son graduated with a business degree from Western Connecticut State University, "the timing was perfect" and the Gift Cottage was launched. It is a family run business. Terri, Joan's daughter, helps run the store, assists with merchandising, ordering, and sales. Joan's husband does the landscaping, signage, specialty projects, and is the go-to guy for any help. Bob is still her partner and handles payroll, accounts payable as well as fill in sales, handyman and problem solver. Where Joan is the creative end of the business, Bob is the voice of reason. Joan has two other sons and grandchildren that help out whenever needed. They have been fortunate with their staff, whom they say, feels like family. The strong connection the family has with the shop is transferred to the community.
The Gift Cottage is involved in community activities and hosts many of their own. They actively participate in Chamber of Commerce events and give donations to local causes, schools, and churches. Some of their favorite events are SummerFest, Trick or Treat Street, and the town's Tree Lighting Ceremony, which bring people from neighboring towns to Bethel. They host their own in-store gala's for the Bethel Garden Club, Bethel Women's Club, Ladies' Night Out, and Sip and Stroll, where attendees receive a discount and a small gift. The Gift Cottage plans to have more events like these in the future. In 26 years of business, Joan says she has been "blessed to call many of my customers, friends." She says retailers must strive to make customers feel special with personal attention, varied and current product lines, and by listening to what the customers would like to see in the store. They greet and engage with every person who walks through the front door.
Over the years, the Gift Cottage has seen a lot of changes. They advertise online now. They do a weekly giveaway on Facebook that gains a lot of attention and eager new shoppers. They have also changed the layout of their store and spruced up the interior to give it a fresh and current look. The displays are less cluttered and the store is more organized and easy to navigate. These changes have helped them reach new and younger customers. Reinventing what the store is and means to its loyal and new customers has become an ongoing task in today's competitive retail environment.
Joan and Terri provide useful advice to new businesses on maintaining a successful retail operation. First of all, a store needs to be in a good location. Products need to be current and offer value-driven price ranges for your market. Being visible and inviting with customers is necessary, as is creating an atmosphere where they can smell, see, and touch your products, or you will be competing on price alone. If there are similar stores in your area, make sure you are not competing with the same product lines. The Gift Cottage has been successful over the years because they offer trendy, new products coupled with Joan's passion for what she loves to do, but, most of all, it's the staff's personal interaction with all their customers that breeds success.