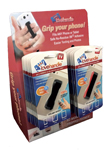 Mike Watts, general manager of DMD Products, distributor of the LoveHandle phone grip, has an expansive view of the potential customer base: "It's pretty much everybody aged 7 to 70, because we all have smartphones now."
The LoveHandle is a simple and ingenious product that solves a thoroughly modern problem: slippery smartphones. "Cell phones are fragile and hard to hold onto," Watts says. "So we designed a simple system. The LoveHandle sticks to the back of a phone and has a natural rubber band that you can comfortably slip your fingers into and hold the phone."
The product was launched in early September 2014, and since then they've been "selling like nuts." Early retail outlets have already placed reorders, and the product was featured at the recent IGES/SSS show in Tennessee, where it attracted a lot of attention. Watts said the LoveHandle had an "enormous response," because "we're solving a problem that's so pervasive."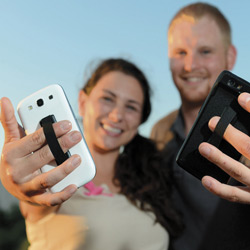 The LoveHandle's uses are legion: it makes it easy to take selfies, dial and text with one hand, even carry a mug or glass by slinging the phone around to the back of your hand. It's the perfect product for just about anywhere, Watts avers.
"They can be sold to anyone who sells to anybody who has a cell phone," he explains. The original LoveHandle fits any smartphone up to an iPhone 6 or mini iPad. In January 2015, the company plans to roll out a larger version called the LoveHandle Tablet Grip that will work with tablet computers including the full-size iPad. Plans are also in the works for a LoveHandle car adapter that will make it easy to mount your phone on your dashboard.  The bands on the LoveHandle can be custom printed with the name of your company or destination.
How to Buy Products
The LoveHandle can be ordered online or direct from the company. There is a 1-case minimum for wholesale orders, with 48 units to the case, plus two free 24-count display units. Cases included mixed colors, with a focus on black because it's by far the most popular color, according to Watts.
The wholesale cost per unit is $2.50, with an MSRP of $4.99. Shipping is included with all wholesale orders, and the products are backed by a manufacturer's warranty. "Retailers and consumers can return anything to us for any reason," Watts says.