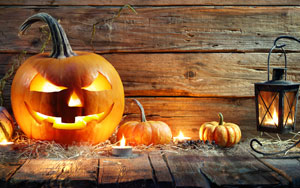 The Halloween season is just a few months away, so indie retailers should start thinking about some different products and decorations to entice your customers. It's ok to put these "spooky" items on your shelves a little early, as Millennials and Gen Z seem to be more and more excited about shopping for this holiday, and it gets them thinking about how to celebrate.
Overall, Halloween is a $6 billion per year industry in total sales of everything related to it, according to an article from Profitable Venture, so getting into the swing of selling these holiday products can be really profitable for your business. Here are some spooktacular tricks and treats from Independent Retailer to kick off your Q4 sales:
What Should You Sell?
To start off, as a business owner you might ask what kinds of products you should sell in your store. According to the National Retail Federation, expected Halloween spending in 2018 was 95 percent on candy. Decorations were expected to account for 74 percent of sales, while 68 percent of sales were expected to be on costumes. Greeting cards are also a major Halloween category, with sales expected to reach 35 percent. With this information in mind, retailers can figure out the best Halloween products to make them the most sales.
Creative Costume Ideas
Consumers have the option of going to a mass retailer such as Party City or Spirit to get their costumes, so it may not be worth it to sell the average superhero ensemble. Get creative with different dress-up ideas that can't be found anywhere else. Pinterest has loads of DIY costume ideas that you can check out for inspiration. Give your customers a reason to shop at your store rather than mass merchants.
Incorporate Cute & Spooky Sayings Onto Your Products
Whether you sell clothing, jewelry, little trinkets or other merchandise, there are always different and creative ways to add a sprinkle of Halloween to your products without having to be on costumes, candy, decorations or greeting cards. Eyeshadows, lipsticks and other makeup products can be tied into dramatic looks for people who dress with costumes.
The Ultimate Party Preparation Destination
Think about all the Halloween parties that will be thrown and all of the different products that can give your customers the best one on the block. Entertaining items such as punch bowls, platters, tablecloths and more can be offered as ideas for adult Halloween parties. If you happen to sell food and beverages, those can be positioned ever-so-cleverly near your holiday display.
Since decorations account for some of the most Halloween spending, don't leave these products out of your preparations. Make sure to stock up on cute lighting, paper and plastic dinnerware (or just paper if you're trying to keep your store green which your customers will also appreciate), wall hangings, window stickers and many others so your customers can throw the ultimate bash.
Promote Your Halloween Essentials
As with any other holiday, promoting your Halloween products is super important to let consumers know all the great things you sell. Newsletters and emails can help inspire your customers to shop at your store for their holiday needs, and social media is also essential for helping to spread the word. It's a great and free way to post any deals or sales you may have as well as new products. They can also share the posts with their friends which makes it the ultimate promoting tool.
Online search tactics are also a must for those searching for new Halloween products. Pay-per-click ads are a nice choice, but if you're looking for ways to keep the cost down, make sure to include key search terms in your product descriptions on your store's website. You can also include a social media post with these terms to bump up the search key terms that much more.