Say the words 'New England' and your mind immediately conjures up images of quaint small towns, beautiful foliage, and fabulous regional products like maple syrup. For retailers interested in offering the unique and popular items made in this gorgeous part of the country, The New England Made Giftware & Specialty Food Show is for you.
Held March 18-20, 2017 at the Portland Sports Complex in Portland, ME, the show jumps into Spring by offering retailers locally-made goods from hundreds of businesses located in Maine, New Hampshire, Vermont, Massachusetts, Rhode Island, and Connecticut. Specialty gift and gourmet food retailers looking to source artisanal merchandise across multiple categories including apparel, home goods, home décor, as well as food and drink will find a broad range of selections.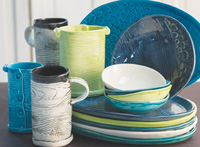 "New England Made has been presenting quality locally made giftware and specialty food products for 33 years to the wholesale market. This year New England Made will present our largest show ever with 350 companies," says New England Made Show Producer Stefa Normantas. "Our regional show has a national reputation for quality and craftsmanship. Retailers from around the country are discovering why our show continues to have significant growth." Normantas continues. The New England Made Giftware Show "is a place to find truly unique items for retailers' shops while meeting the artists and craftsman who make each product right here in New England," Normantas adds.
For retailers interested in finding out more show information, or for details on travel arrangements and hotels, please visit www.nemadeshows.com or call Giraffe Events at 207-781-5756