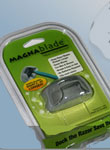 Men and women who enjoy smooth, clean shaven skin, but not the expense of constantly buying new razor blades, will appreciate the longevity Magna Blade gives their blades. "Magna Blade uses magnetic energy to extend the life of razor blades," product inventor Rick Gherman says. "It definitely doubles the life of the blade and I've had customers tell me they have used one blade for as long as six months." Gherman got the idea for Magna Blade several years ago when he purchased a product that claimed to make razor blades last longer. "It was a big block of plastic and it sat on your countertop. The problem was that the product became gooey and it was cumbersome and ugly, and I didn't want it cluttering my vanity top." Gherman, with a history of successfully redesigning things, particularly buildings, set out to create a product that would truly make razor blades last longer and he hired a designer to help with the prototype.
Gherman discovered that the energy field created by two north to north ceramic magnets was many times stronger than between a conventional configuration of magnets and the product evolved to what it is today. Now, Gherman says he is thrilled to offer the product for sale through independent retailers. "When people see the Magna Blade up close, the simple yet powerful concept makes such sense. Everybody who uses it loves it because it performs," he states. "With my product, blades last two to six times longer." Two testing labs have confirmed that Magna Blade prevents the molecules at the edge of the blade from leaving. It's that imperceptible chip, perceived as a dull blade, that causes people to cut themselves when shaving. Right now, Magna Blade is only available in gray but Gherman plans to expand the line of colors, starting with tan.
Magna Blade generally wholesales for $9.95 each for one dozen units. There is a five percent discount when buyers purchase 24 Magna Blades and a 10 percent discount for orders of 36 or more. Suggested retail price is $19.95. Retailers who mention Independent Retailer.com when they order will receive a special wholesale rate of $7 per unit, enabling them to pass on an "introductory price" of $14.95 to consumers. The minimum order is 12 units and shipping is free.
Not only does Gherman want to help people get a better shave with longer lasting blades, he plans to contribute the majority of Magna Blade proceeds to the Wounded Warriors Project, Folds of Honor and The Fisher House. "I want to help U.S. servicemen who have been disabled and establish an educational fund for kids who have lost their parents in service for our country."
For more information:
Magna Blade LLC
P.O. Box 1312
Pebble Beach, CA 93953
Toll free: 877-520-7749
Website: www.magnablade.com