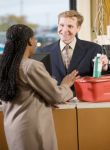 Ask anyone who's been successful running an independent retail business, and they will tell you that establishing strong relationships of trust with customers over time is one of the indispensable building blocks in the foundation of their success. It goes without saying that people are more likely to buy from retailers they know and like, but how does one earn this trust? There are questions that need to be asked in order to build these relationships. This important topic was recently under discussion at the American Express business website Open Forum, and here are six "rules" that were singled out in particular:
1. Know Your Target Customer
Identify a specific customer base and target your business toward it. It's up to you to choose who you'd like to bring into your sales cycle. And be specific.
2. Know What They're Looking For
Customers are looking for specific products to solve problems and achieve goals–and it's up to you to figure out what they are. Without that knowledge, it's impossible to make them the right kinds of offers.
3. Know When They look for You
It's crucial to develop an understanding of the reason customers seek out your product. What must happen, in their professional or personal life, for them to make the purchase? They may not need you at the moment they find you, but this is where a robust sales cycle comes in handy.
4. Know Where They Look for You
Magazines, the Internet, referrals–these are all sources of new customers. If you're looking to figure out how people are finding you, try surveying customers.
5. Figure Out Why They Seek Out Your Business in Particular
It's important to understand what makes you the best choice. Whether you're an authority in the field, are offering the best solutions, or something else, there's a reason customers may be drawn to you in particular, and it will help you to know exactly what it is.
6. Determine How You Want Them to Engage with You
While it would obviously be great if customers immediately jump at your highest-priced product, this isn't usually something that will happen right off the bat. As we've established, this is typically the result of a relationship cultivated over time–and so you need to figure out how you want the customer to interact with you in the long term. This may be via telephone, website, newsletter, or perhaps some other means.