by Meaghan Brophy
Pick the Right Show
With so many trade shows out there, no doubt there is one that will perfectly fit the needs of your store. Besides having the right merchandise, there are a few other options to consider. Do you want to attend a supersized national show to see the most amount of merchandise? Or do you want to attend a smaller trade show with fewer options, but more opportunity to connect? Smaller shows allow for more personal interaction between buyers and exhibitors. Larger shows provide a more traditional experience and have a wider selection.
Also, consider location and time of year. How far are you willing to travel? Should the show be within driving distance, or are you willing to fly to a show destination?
Be sure to consider the timing of the show. Knowing what season you want to buy for will help you choose a show to fit those needs, especially if you are an apparel or accessory retailer. If you're attending a show with importers or manufacturers, there will likely be deals on products for the current and upcoming seasons. If you attend a show with a lot of off-price or liquidation suppliers, there will be a lot of great prices for items from the current season.
Plan for your Absence
Do you have employees who can manage the store while you're away, or will you have to close up shop? If there isn't enough staff to cover your absence, make sure to start communicating the store's closing to customers well in advance. Naturally, you will lose sales when you are closed, but communicating through point of purchase displays, emails, and social media will allow regulars to plan ahead and help keep customer service issues to a minimum.
Register Ahead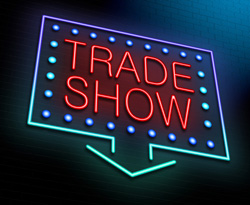 There are really no down-sides to advanced registration. There may be early-bird specials or a discount from the on-site registration price. Many shows have resources available for registered attendees only, like floor maps, exhibitor matchmaking, and travel deals that will make the planning process much easier. Registering in advance also keeps line waiting to a minimum once you arrive at the show, allowing you more time on the floor. To help find a show, look over online show calendars, like the one found on WholesaleCentral.com, to get a feel for upcoming shows.
Travel
Make every effort to stay at the hotel designated for the event. It may be more expensive than other nearby options, but the show owners may also have negotiated an attendee-discounted rate. If you stay at the show's appointed hotel, you'll have better networking opportunities after hours at the hotel bar, restaurant, or lobby, where other buyers and exhibitors will be congregated.
Have a Game Plan
Know exactly what you want to get out of attending the show. Maybe you are looking to place orders to stock your store for the next season, or maybe you are going to get a feel for some up-and-coming trends that you can implement from home. Having a specific goal in mind will give you a sense of direction.
Divide and Conquer
Between exhibitors, networking events, and speakers, there is a lot going on at trade shows. Bring a colleague with you so you can split up on the show floor. Compare notes and feedback at the end of each day. This way you can meet with all of the booths and speakers you want to without feeling rushed. If you cannot go with a partner, try to network with other attendees either through the show website, LinkedIn, or Facebook groups.