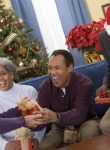 Gift receipts are quickly becoming a standard for holiday shoppers, which is great news for retailers who typically see long lines of people waiting to return holiday gifts after the Christmas rush.
According to the National Retail Federation's 2010 Holiday Returns Survey, six out of 10 (60.7%) shoppers say they provide a gift receipt most or some of the time when giving a gift, up from 58.5 percent who said so last year, and 56.9 percent in 2006. Additionally, nine out of 10 Americans (88.4%) say they find stores return policies to be fair.
"The final week of December brings a variety of shoppers to stores, including people redeeming gift cards, bargain shoppers looking for next year's gifts and of course, gift recipients who need to make returns," NRF President and CEO Matthew Shay said in a statement. "With crowds still at peak levels on most days after Christmas, retailers will have extra staff and customer service representatives to assist, but gift receipts really do help make the return process a smooth one."
For more on the survey and some tips for stress-free returning, click HERE.