Many U.S. states are mandating that brick-and-mortar businesses must require face masks for all guests and employees to keep everyone safe. As comforting as this may sound for those looking to make their customers feel safe while shopping in store, many consumers do not want to wear masks and are causing scenes inside of stores.
Videos all over social media can be seen of patrons refusing to wear a mask while in the store and causing a scene. Sometimes an employee handles the situation well, and sometimes they don't, but either way this could be bad publicity for indie retailers, especially during the holiday rush. In order to keep everyone calm and de-escalate the situation as quickly as possible, Russ Turner, director of People Incorporated's Training Institute, offers some tips for brick-and-mortar businesses.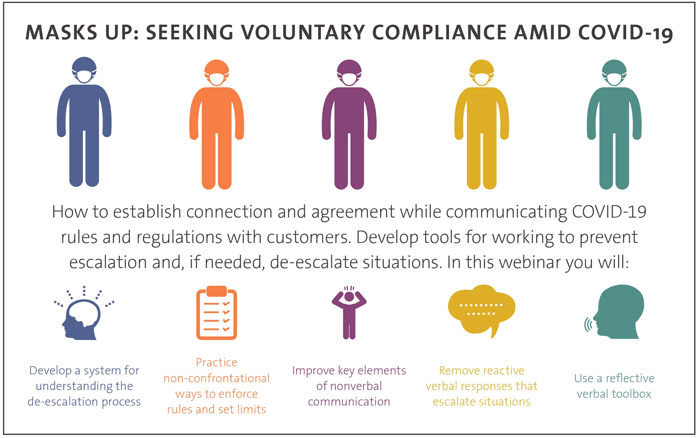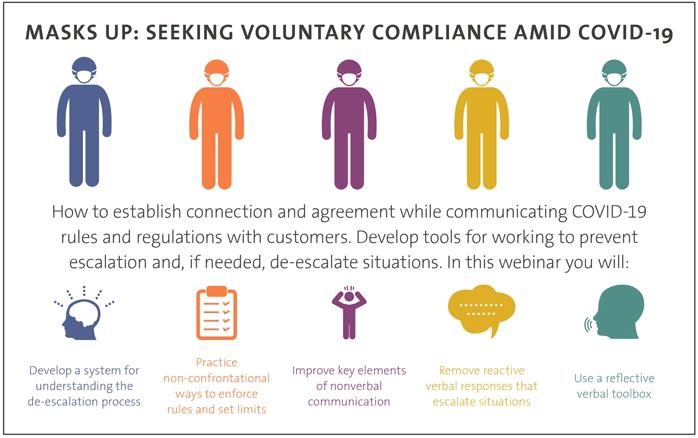 Remember to Stay in a Professional Role
"There are three pieces to the way we train on dealing with upset or anxious customers. The first bit is a little bit of work, self-assessment, and focus in and remind yourself to stay in a professional role," Turner said. "Get your body language right so you're not confrontational, and don't look angry or exasperated. Just be neutral and non-confrontational."
Getting Customers to Comply
If you're looking to get mask compliance from a customer the second they enter the store, Turner suggests that you first make a connection with the shopper. Thank them for coming in the store, be glad to see that they are going out, or some similar statement to make a friendly connection.
"Then it's the ask, not a tell," Turner said. "Asking instead of telling is really important. For example, 'Can I ask you to,' 'Would you be willing to,' and so on. The ask context is a bit easier because when it's a state mandate, employees can get away with telling the customers that the state is making them do the mask thing and it takes away the fault from the individual worker."
Phrases such as "If you could help me out by putting on a mask, it would be really helpful," checks both the personal connection box and ask, not tell box. Employees and shoppers can make a personal connection at that moment since the employee is taking the fault off of them. Of course, make sure to add a statement of appreciation after the customer complies for the cherry on top.
Appealing to a Common Goal
Another great way of getting shoppers to comply is by putting up a sign or social media post asking customers to please wear a mask so you can keep the store open. Consumers obviously want to shop and keep the store open, so you can make a connection by letting them know you're both working toward the same goal, even if you disagree on strategies.
What If the Customer Says No?
If the shopper starts arguing about putting on a mask, that's when the retailer really needs to kick into their de-escalation mode. One way that can work is by paraphrasing back to what the customer said because then they feel like you heard them and it can help to reduce tension. Instead of saying they have to wear a mask, say "Oh I know the mask thing is a real pain." You're making a connection and making the customer feel heard.
After you connect with them, give the consumer some sort of choice rather than a directive. For example, "Do you want to wear your mask or take this one I have here?" If you give shoppers a choice, they might just pick one and end the conversation. You can also give customers the choice to come back later or make their purchase online.
Make sure to keep all of your employees trained on how to de-escalate an anxious situation with these tactics for the holiday season, as there are sure to be customers who won't want to wear a mask. By keeping your speech calm and making that connection, you can help to keep your store open and shoppers happy.