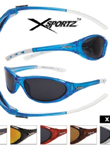 Sunglasses are an important part of any seasonal wardrobe, a must have accessory to tie the whole line together for today's fashionistas. Today's sunglass designs offer quality and advanced features, but also a vogue element, making the buying decision more about colors, shapes, styles and runway name brands rather than necessity. Mass Vision, a sunglasses wholesale provider, writes on its blog, "It is very common to see sunglasses worn by the hottest celebrities become popular overnight. Once a movie star or socialite is photographed wearing a pair of sunglasses, whether on the red carpet or caught up in the latest scandal, the demand increases." This is why Mass Vision believes it is the job of the designer sunglass wholesaler to keep up to date with the latest pop culture developments and make sure the manufacturers produce the right designs.
Fashion Styles Make Up Majority of Sales
With the goal of manufacturing and distributing the most up-to-date styles with the best quality in the market, Mass Vision offers over 20 designer inspired lines and over 1,100 styles including animal print, fit overs and shutter shades. And while some wholesalers have had record sales in the niche market of sports or active sunglasses, president of sales at Mass Vision, Anthony Masiello, says fashion styles make up 70 percent of the company's sales, and that goes for its retail distributors as well. Among some of the best sellers are the Louis Vuitton inspired (rebranded as Louis Valentin) and the continually popular aviators and wayfarers. "These are some fashion trends that are here to stay," says Masiello. No matter the style the wholesaler keeps costs low and quality high. "I'd say about 90 percent of our glasses wholesale between $18 to $32 per dozen, coming out to about $1.50 to $2.25 a pair," says Masiello. "The average retail price is about $10 a pair."
Selection isn't all Mass Vision has to offer in the world of eyewear, as Masiello also points out the, "friendly staff and super service, allowing customers to go forward into the new season with style and confidence." Its package deal offers, including the 30 pair startup package, keeps retailers well stocked and ready to meet any fashionista's needs. In this package customers receive a 24 pair revolving counter display and 30 different styles of sunglasses, 50 percent of which are part of the "Inspired By" collections. "The remaining glasses are the top selling non branded lines," says Masiello. The company's floor displays offer variety and the counter displays provide a little bit of everything for a small space. Mixed pair dozens are best for those retailers testing out their markets. "We want our retailers to try out the different categories and styles and figure out what works best in their stores," notes Masiello.
Other special features offered by Mass Vision include an email sign up for product updates and  voucher codes, as well as a blog site (www.massvisionsunglassblog.com) for industry updates and trends. Mass Vision has no minimum order but does offer volume discounts for those retailers placing larger orders. The volume discount packages are a 10 percent markdown for orders of 500 to 999 units, 15 percent for an order of 1,000 to 1,999 units, and a 20 percent markdown for an order of 2,000 plus units.
For more information:
Mass Vision
315 Halvern Cove
Rochester, NY 14622
Toll Free: 877-609-9968
Tel.: 585-254-3910
Website: www.massvisionsunglasses.com, www.massvisioninc.com