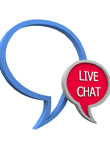 First, there was Pepper, the humanoid robot capable of recognizing human emotions and being adapted into more than 140 SoftBank Mobile stores in Japan, and now we have Jules, an automated intelligence conversation platform adapted into the Miracle Mile Shops in Las Vegas. Technology is becoming a new, successful, driving force for communicating with customers.
Jules is available 24/7 through Facebook Messenger and has a "witty, sassy and trendy personality" which reflects the mall's "chic and lively" shoppers. This new chatbot is an AI conversation interface developed by Miracle Mile Shops and Satisfi Labs to combine the speed and accuracy of artificial intelligence with the ease of real conversation to answer any questions that consumers may have about parking and security, suggestions of where to shop for certain items or food and beverage options nearby, and unique information for upcoming events or shows.
"As a fun embodiment and accurate portrayal of our brand, we are excited to introduce Jules to our customers as a meaningful way to enhance their experience while on property," said Wendy Albert, senior director of marketing of Miracle Mile Shops, in the press release. "Guest engagement is important to us and Jules will undoubtedly provide quick-witted, productive responses in real time throughout the center."
In a trial by Retail Dive, here is what Jules says: "Hey there, I'm Jules, your Miracle Mile Shops' expert. I know pretty much everything there is to know about my fave place to shop, so fire away!" When asked, "What's up, Jules?" she responds, "Oh you know, I'm just a girl, sitting in front of a phone, asking it to message me…"
This chatbot is location-based and able to provide feedback depending on where users are in the center, but she can also be accessed 2,000 miles away. Gartner has revealed that 25 percent of customer service operations will use virtual customer assistants by 2020. With so many fun things to access along The Strip, it only makes sense to utilize technology to elevate guest experience and keep consumers coming back for more.
Jules isn't the first use of advanced technology at the mall, either. In June 2017, Miracle Mall opened the Tipsy Robot bar with robot bartenders, where customers can pay and then get a QR code on their smartphone. After, the robot will prepare their drink order. Each drink is $14, including tax and tip.
Customers are getting more used to their phones, and implementing technology like this will create not only a more personalized experience but also an exciting new reason for people to shop at your store. As smaller businesses expand to another location or grow in other ways, it's important to make every new visitor feel welcome in different and creative ways. To meet Jules, please message Miracle Mile Shops at https://www.facebook.com/MiracleMileLV/