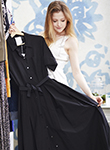 At this point in the summer, many retailers have mentally wrapped up their warm-weather buying and are preparing inventories for fall and winter. Planning ahead is a large key to success in the retail industry, but it's also important to take advantage of pop-up trends for maximum sales. Use this midway point to take advantage of emerging summer trends to carry out the season, and start scoping out the best deals on cold weather staples.
Summer Sizzlers
Now that we are in the thick of the summer season, it's easy to see what's selling, what's not selling, and what surprise trends sneak up on us. Sam Monem, owner of Island Wholesaler says "In July, we're still in the warm weather season, so for me I'm selling a lot of warm weather clothes. Shorts are still in full effect." Monem supplies urban-style clothing to retailers nationwide. According to him, many of his retailers are still purchasing summer clothing because "the fashion is more up to date now than it was before."
Island Wholesalers' current best sellers include "anything distressed," says Monem. "The most popular item is our razor-cut front t-shirt. Cut and sewn styles are doing well, zippers are big, especially in places they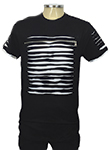 don't normally belong, and people are asking for acid washed fabrics again."
Monem reminds his buyers that especially in the summertime, customers are looking for items that stand out and make a statement. "I get a lot of customers who buy things for their store that they like. I tell them it's good to expand your horizons. Maybe something is too fashion forward for you, but if you bring it in, it might be your best seller. Having an open mind is important," he explains.

Staple Stock-Up
Though summer is known for riskier trends and bolder colors, fall and winter styles tend to remain classic. As the weather gets colder, customers look for comforting staples. Neutral and jewel-tones colors dominate, as well as denim, fur, leather materials and chunky sweaters.
Yamina Mascorro, of Mascorro Leather, says, "July is when we start getting really busy. Retailers are shopping for back to school and getting an early start on holiday buying." Mascorro Leather is a forty-year-old family business that manufactures top grain leather products right in Los Angeles, California. She explains that their leather basics always do very well this time of year, especially wallets and belts. As far as what sells well year after year, "it's all in the same realm, just new designs and patterns," says Mascorro.
With cold weather apparel and accessories offering more stability than summer styles, make sure to start stocking your inventory ahead of time to help spread out the purchasing burden.
Changing Climate
With the rise of fast-fashion and the decrease in cost of goods, for several years retailers and customers alike wanted more apparel and more options at cheaper prices. However, now that mindset is shifting. Consumers are looking for quality over quantity. They are willing to spend more to look sharp and have durable outfits. As a retailer, you can buy more products with the same amount of money if they are a lesser quality. Historically speaking, this was the better option because you could move more goods and make more sales. But now, consumers are willing to pay for quality, which means retailers can make a larger profit margin off of fewer items. "If you have $1,000 to spend as a retailer," explains Monem, "and you have the option of buying twenty or one hundred items, conventional wisdom says to buy the hundred. But now it is better to buy the twenty because you will make more money off of that. The consumer will pay the price of a nice looking outfit. It's a scary proposition to invest more money into higher quality. But once you're over that hurdle you will realize the return."
Position for Profit
In addition to choosing the right products, it's also important to display them in an appealing way. Some customers come in looking for a specific item, however most shoppers don't know exactly what they want. As a retailer, you need to craft images for them by putting together outfits and grouping similar looks together. "If they walk into your store and the mannequin is dressed right, they will take everything from that mannequin," says Monem. "Many retailers have a set clientele in mind. You have to build an image for that customer." Conventional wisdom once again says that separating bottoms and tops into separate sides of the store is a logical organization method. However, that leaves it up to the customer to create their own image and outfit. "You can't separate bottoms and tops," continues Monem. "You have to have the customer want to be that mannequin."
Tradeshow Tools
When you're looking for last minute deals to finish out the summer and discounted prices to stock up for the colder seasons, be sure to take advantage of trade shows. The exhibitors at these industry-only events often have products and specials exclusive to the shows they attend, or use the shows to debut new products.
OFFPRICE is a national apparel and accessory trade show that offers retailers name brand and unique items at a significant discount off of regular wholesale rates. Off-price merchandise comes from a variety of sources including overstocks, closeouts, and change of seasons. The nature of the off-price industry means almost everything you find at the OFFPRICE show will be exclusive, limited quality, or deeply discounted. This show is a great resource for finding closeout summer apparel. It is also an order-writing show, so retailers can place larger orders of fall and winter apparel to be delivered to their store.
ASD Marketweek is one of the most comprehensive trade shows hosted in the United States, including large apparel and accessory sections. The size of the show ensures retailers will discover new styles and find low prices. Hundreds of apparel and accessory exhibitors guarantees something for everyone.
IGES®, the International Gift Exposition in the Smokies®, is hosted every November, perfectly timed to help retailers stock up last minute holiday inventory. Though gift is in the name, many apparel and accessory vendors exhibit at the show in addition to gift and souvenir products.
By stocking up on staples before the season starts and saving trendier purchases for further into the season, retailers can spread out the financial buying burden, buy with more confidence and accuracy, and take advantage of more closeout prices.