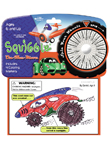 RandomLine, Inc. boasts about its games on its website, saying, "No Noise. No Batteries. Simply Your Imagination." And that is exactly what it takes to play Squiggle On-The-Go, Squiggle Barnyard-On-The-Go, Squiggle On-the-Move and Squiggle Connect Game. Squiggle is a team game where players compete to turn a squiggly line into a picture. Players are given a random line, known as a squiggle, to start with, and then have 60 seconds to transform it into something. If your teammate can correctly guess what you drew, your team earns points. The amount of points awarded is based on the difficultly of the squiggle and the uniqueness of the picture created.
There are three levels of squiggles: easy, challenging, and mind boggling. The Squiggle scorebook provides a point value for over 1,000 pictures and objects. There are some squiggles in the deck that allow for a, "Second Chance," so if your teammate cannot guess what you drew, you can pantomime and guess again.
Squiggle On-The-Go wholesales for $3.50 per unit and has a suggested retail of $6.99 (Ages five and Up); Squiggle Barnyard On-The-Go wholesales for $2.50, suggested retail, $4.99; Squiggle On-The-Move wholesales for $4.50, with suggested retail of $8.99; and Squiggle Connect Game wholesales for $10 and retails for $19.99. The company typically wants a minimum order of $100, but also allows customers with smaller shops to order case pack quantities. That means they just need to order enough to fill a case of product, which can range from $60 minimum to $100.
For more information:
RandomLine, Inc.
P.O. Box 193
Morris Plains, NJ 07950
Toll Free: 888-234-3729
Website: www.randomline.com