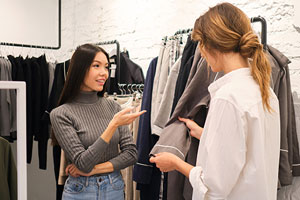 The 55th OFFPRICE Show, held between August 6-9th 2022 at the Venetian Expo in Las Vegas, kicked-off the summer edition of Las Vegas Fashion Week. Retailers of all sizes came to source excess inventory that is hitting the market to fill gaps in their open-to-buy dollars and preview resort and early spring merchandise. 
Revolutionizing the Retail Industry
"We aim to redefine how buyers and vendors interact with each other in a welcoming environment and find everything under one-roof. As the industry continues its recovery, it is clear that the OFFPRICE Show continues to evolve and revolutionize the retail business," Tricia Barglof, Executive Director of the OFFPRICE Show, said.
"I have been coming here for 18 years, and the quality of goods has always gotten better. The show is experiencing a huge growth in their online presence, with a lot of promotion and marketing going on. People love coming here to gather and talk about what is new. We have made a lot of friends here," Karla Rendon, Exhibitor from Tasha Apparel, said.
Offering Large Varieties of Discounted Merchandise
The OFFPRICE show brought buyers from around the world together to shop for products at up to 70 percent off retail prices. Visitors were able to shop for a huge variety of apparel products, beauty, home and gift, and their newest highlighted category section, accessories. Most items were ready to ship on an immediate basis in bulk quantity, offering high margins to buyers in need of inventory.
Tricia Barglof said "A retailer looking for specific product categories could source a wide range of styles and designs all in one place, instead of having to visit multiple places to find the inventory they need. Additionally, the OFFPRICE show offers the opportunity to purchase products at a lower cost, which can be passed onto consumers and drive sales."
Preparing for the Holidays
With an increased focus on ecommerce, boutique owners and small retailers are looking to capitalize on quality value-priced products. The show gave special attention to sourcing seasonal and margin-building inventory that would be most beneficial to shoppers during the upcoming holiday season.
As an order-writing event, both buyers and sellers were able to take advantage of opportunities in the market due to last year's supply chain issues. Because of the added inventory in the market, many retailers were introduced to new suppliers and expanded their network of vendors for the future.
The Go-To Destination for Retailers
New features to the show this year included an Accessories section to help retailers identify that category on the show floor more easily. There were also many networking opportunities for buyers and sellers to meet and mingle at popcorn and gelato socials, as well as a Sip and Shop in the always popular Cash and Carry section. OFFPRICE has become a go-to destination for value-conscious retailers seeking quality merchandise priced sharply and ready for immediate shipping.
"The significance of the off-price sector is being recognized by retailers more than ever. As the industry evolves, more and more buyers are realizing the quality, unique value, and array of opportunities that are available at OFFPRICE. Our vendors offer retailers flexibility, speed to market, and higher margins that cannot be found anywhere else. That is why we are seeing more than 20% new buyers at each show since 2020," Audrey Taylor, Global Retail Business Manager, said. Now that fall is around the corner, planning for the February 2023 show will be top of mind for the OFFPRICE team. Stay informed on the latest news and retail guides by visiting www.offpriceshow.com.