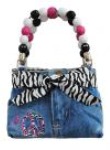 Entrepreneur Tommy J. Lee had an idea a few years back: start up a website featuring boutique-type items that Moms would want, but at discounted prices. "We wanted to offer unique items that you might find in a high-end boutique, not the same stuff you find in a Target or a Walmart," Lee says. The end result is Mommy Wholesale.com, which now carries more than 2,000 types of bags, wallets, hats and watches for women.
The site has been wildly successful, and Lee wholesales to a number of different retailers. "Most of our customers have a retail store, but we also sell to boutiques, nail salons, or anywhere that women go," he says. "We even sell to some grocery stores." A quick visit to Lee's site can be mind-boggling for the sheer number of items he carries. "Our biggest seller right now is a denim bag made out of real, recycled blue jeans," Lee says. "Everyone wants one."
The denim bag with pockets, fly-front and belt loops still on it comes in two sizes; the smaller one wholesales for $11 and retails for $24.99. The larger size wholesales for $18 and retails for $45. "There's a nice markup on both sizes," Lee says. The minimum order size at Mommy Wholesale.com is only $50. "We realize these are difficult times, so we're giving retailers every opportunity to deal with us," he says.
Registration at the site only takes minutes, with customers needing to supply some basic information and a business license number. For orders of $1000 or more, there's a 5% discount and free shipping. For orders between $500 and $1,000, there's a 3% discount offered.
For More Information:
Mommy Wholesale
19401 Vermont Avenue, Suite A110
Torrance, CA 90502
Toll Free: 877-808-3229
Website: www.mommywholesale.com