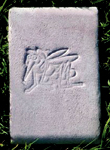 After tremendous success with the Potty Rock, a scent infused block for puppy potty training, M&B Products realized the strong market for scented deterrents. The company, as revealed in a recent interview for blog.wholesalecentral.com, "is branching out, now selling Garden Guards to keep critters out of a home garden, Mosquito Guard to repel bugs from decks, patios and boats, and Cat Scat to keep unwanted cats out of flower beds and window wells," says inventor and CEO, William LaPlant. It isn't solely the popularity of the Potty Rock that motivated LaPlant to research and develop these many scented deterrents, but also personal experiences leading him to research and development.
The Potty Rock came from a personal experience. As LaPlant explains, "We had a place in Florida and one of our older dogs got loose and soiled a neighbor's property. Needless to say they were upset, so I set out to do some research to see if I could train my dog to 'go' where I wanted him to go." Being a prior resident of Florida, where it is muggy and buggy, surely gave LaPlant enough experience and mosquito bites to want to develop a product to control pesky bugs. According to LaPlant, M&B has had much luck with its Mosquito Guard, explaining, "Like our potty rocks, we researched and developed Mosquito Guard over a few years, and we still have some initial test products out there still working." The resulting six to eight months lifetime of Mosquito Guard, LaPlant believes, is testament to the time and research his family run operation puts into its products.
The quality of Mosquito Guard, durable with its concrete base and easily activated in most weather types, has many independent retailers investing in stocking their shelves with the product. Although sold at a wholesale price of $8 plus shipping, retail prices profitably run from $19.99 to $39.99, as recently sold in Skymall Magazine, which isn't the only catalogue showcasing the product, as it appears in over 10 other magazines. LaPlant confirms the success of M&B Products, saying, "Our sales have been increasing, and soon we will be updating our website with some new products." Much like the Potty Rock, Mosquito Guard can be purchased by the carton, containing 30 items sealed and ready for retail.
For more information:
M&B Products
1605 Highway 55 East
Buffalo, MN 55313
Tel.: 763-202-4514
Website: www.pottyrock.com