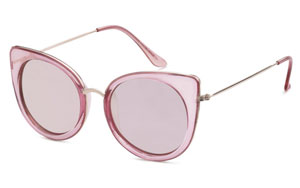 Sunglasses are a daily necessity worn by practically every American. As a fashion statement or practical health precaution, everyone has different priorities, styles, and needs when it comes to selecting the perfect pair of shades. But, for many, it doesn't stop as just one pair. The average American has several pairs of sunglasses. In 2010, sunglasses were a $4 billion industry, but they are expected to grow to $6.27 billion by 2021.
Here are the top styles you need to have a great sunglass selling season this year:
Fashion Trends
High-quality fashion sunglasses are a must for every retailer. Shoppers will continue to buy fashion sunglasses year after year as trends shift and styles change. Though only few months ago, tiny sunglasses were all the rage, but this coming spring and summer, large, oversized glasses are popular once again. Aviator, cat-eye, and geometric-shaped lenses are stylish and universally flattering. For frames, thin yet colorful metal and plastic frames are a must-have.
Sport and Polarized
Polarized lenses offer maximum UV protection, and are a high-quality sunglass choice for any customer who is trying to ward off sun damage. They are also optimal for outdoor sports like mountain biking, baseball, and more.
Reading Glasses
Reading glasses make up a significant portion of over the counter glasses sales. If you've never carried them, offering a selection of stylish readers is worth a shot. Most wholesale suppliers offer a complete package with a variety of lense strengths and even come with a point of purchase display.
Blue Light Protection Glasses
Blue light protection glasses look like readers. They have stylish frames and clear lenses. But. they protect the eyes from the harmful glare of computer and phone screens. Benefits of blocking this blue light includes better sleep quality, reduced eye strain, and headache prevention.
Eason Eyewear
Tel.: 718 628-8882
www.easoneyewear.com
Sun Touch
Tel.: 626-401-9855
www.suntouchsunglasses.com
---
Quick Tips for Selling More Sunglasses
1. Stock a Variety of Price Points
Overall, sunglasses have some of the highest markups and profit margins in the retail industry. Definitely take advantage of this by stocking quality, and even name-brand styles that you can sell for more. But, also be sure to carry a range of affordable, and mid-level price point to cater to the needs of every shopper, whether they are looking to invest in a statement piece or forgot their pair at home and are looking for sunglasses to use for a day.
2. Get out of Your Comfort Zone
Just because you wouldn't wear something, doesn't mean your customers wouldn't. And just because you love a certain style, doesn't mean all of your customers will love it too. Neutral colors and classic styles are great sellers. But, also stock some colorful glasses with unique frames so you have something for everyone.
3. Secure Your Display
Sunglasses are extra susceptible to theft. You want to strike a balance between a display that is accessible so customers can try on styles, but secure enough that you are not losing products. Have your sunglass display in a central location that is visible from most areas of the store. Provide plenty of mirrors that offer your additional viewpoints and angles, and also offer customers the opportunity to test different glasses. Most of all, a friendly store associate that greets and chats with customers can be your most effective shoplifting deterrent.