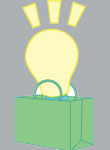 Sidewalk District, an Atlanta-based, multi-channel retail marketplace and virtual sidewalk, launched this fall to give local independent retailers the ability to empower consumers to discover and shop local shops from their phone, tablet or computer. While leveraging ecommerce and mcommerce, Sidewalk District brings the inventories of local boutique, home décor, gift, pet and bicycle shops online and mobile into one marketplace, making shopping at local stores just as easy as shopping at major retail chains. "There's room for every business on the sidewalk of commerce," says Janelle Jolley, Sidewalk District's CEO and founder. Sidewalk District originally began as a shopping guide, city by city, but the concept expanded with a technical component enabling boutiques to become as technologically sophisticated as national chains.
Sionic Mobile, another Atlanta-based technology start-up, recently launched a new smartphone app designed especially for in-town environments and connecting neighborhood merchants with nearby mobile customers. The new ION Rewards app for consumers and the ION Loyalty app for merchants can be downloaded for free in the iTunes App Store and Google Play to receive discounted local shopping offers.
A major support system for concepts like Sidewalk District and Sionic Mobile is Invest Atlanta, the city of Atlanta's official economic development bureau. It serves as the first point of contact for many potential business owners, and offers several programs and benefits for entrepreneurs and start ups. "Atlanta has a strong entrepreneur ecosystem and it's important for entrepreneurs to know that they can succeed here," explains Invest Atlanta's president and CEO Brian McGowan. Most recently, Invest Atlanta launched a new web-based platform called Start Up Atlanta that visually maps out local resources, such as incubators, accelerators and service providers, and provides an opportunity for the local start-up community to build partnerships. Working together to support Atlanta's entrepreneurial ecosystem, over 70 organizations and an alliance of entrepreneurs, universities, for-profits and non-profits have created a support network for entrepreneurs to succeed in launching a start-up or building a business in Atlanta.