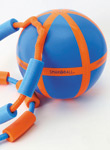 SMAKABALL is a lively game of catch that people of all ages can enjoy, says product inventor, Rami Zein. An architect, Zein says the idea came to him while floating in a pool. Playing around with a swimming noodle, Zein fashioned it into a loop just as a beach ball floated by. "My friend made a loop with his noodle, and I scooped up the ball and smacked it to him," Zein recalls, and the game was on. It was so unusual that Zein patented it and then launched a rough prototype at the 2012 Toy Fair in New York. The degree of attention the toy received astounded everyone, he says. "I decided to have it manufactured seriously and took the finished product to the Toy Fair this year. It's selling like hotcakes."
The product has no netting or backing, Zein explains, and it is friction that catches the ball. Players can catch the ball either underhand or overhand and, with its pause and catch setup, people of different athletic prowess can play well together. While SMAKABALL is a great recreational activity, he notes, physical education teachers and physical therapists also find the product useful.
SMAKABALL is presently available in a blue/orange combination, and additional colors as well as NCAA and NFL licensing are in the works. The product retails for $21.99 and has a wholesale price of $11, it is sold in sets that contain two catchers and a ball. The minimum order is 12 sets, and volume discounts are available.
Where to buy: