The November 1-4, 2017 Smoky Mountain Gift Show generated reports of quality buyer traffic, a record number of first-time exhibitors along with fun networking events for show attendees and exhibitors. Featuring more than 800 booths at the Gatlinburg Convention Center, the show once again attracted the attendance of top eastern region and national retail buyers from theme parks, museums, zoos, aquariums, premier tourist destinations, and national, state and local parks.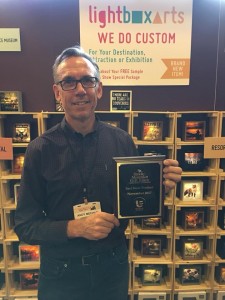 "Our strength continues to be the show's well-defined selection of quality products and new resources in one location," says Christina Bell Davis, Vice President of Gift & Souvenir, Urban Expositions. "We secured the best names in the gift and souvenir industry and welcomed more than 75 new vendors for the 2017 edition, strengthening Gatlinburg's position as the premier product and service destination in the Smokies. Having these resources all under one roof is a tremendous benefit for our attendees as it gives them an opportunity to spend time building relationships with vendors, scouting new products, and completing their buying needs."
Among the many show highlights were a series of competitions and awards. Attending retailers voted on the "Best New Product" award during the show, and LightBoxArt's battery-operated lightbox with interchangeable custom images was selected as the winner.
"I've been in the gift business for 30 years and I've never won an award. This show is bonkers! It's fun to have a product that resonates — and it's rare for there to be something new in the gift industry that's tasteful, well priced," said Andy Meehan, LightBoxArts, Philadelphia, PA.
Richfield, Utah-based Petal Lane, received the Best Made in America product award voted on by Smoky Mountain Gift Show retailers. Their functional art décor magnet boards, custom framed artwork and natural pressed flower gifts and souvenirs were a favorite among retailers at the show.
"Wow! What an honor to be recognized by the retailers at the show," said Gina Ogden, Petal Lane Home. "We are proud to say that our flowers and frames are made locally here in the USA and that our business has brought employment opportunities to our Richfield community."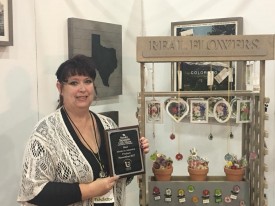 In addition, the Smoky Mountain Gift Show held its grand prize drawing for the Gatlinburg Attraction VIP Pass Sweepstakes, and the winner was Shawne Sheldon Washington Park Zoo in Michigan City, IN. Sheldon received two VIP attraction passes from the Gatlinburg Convention & Visitors Bureau with complimentary admission for two to more than 30 of the popular mountain resort town's top indoor and outdoor attractions – a $1200 value.
The show floor featured introductions from top-name brands and innovative newcomers in destination, resort and tourist merchandise, souvenirs, t-shirts, beach merchandise, coastal and nautical, lake, mountain and lodge, Made in the USA products, logo products, nature and wildlife products, giftware, jewelry and fashion accessories, home décor items, toys/games and more.
The vast and versatile selection received rave reviews from attending retailers. "Every year we always find new and exciting things at the Smoky Mountain Gift Show. Whether we're seeking unique gifts, cards, souvenirs, children's toys or clothing, the Gatlinburg show provides so many options and we can count on the vendors to deliver," said Ronda Ellis, Bridgewater Sportswear, Moneta, VA.
"The Smoky Mountain Gift Show is ideal for anyone looking for new items and new ideas. All of the vendors were friendly and eager to share their products, and we saw a very diverse product mix on the show floor. Gatlinburg is a great place to mix business with pleasure, especially for those of us who live on the coast," adds Robin Clark, Padre Islander, Port Aransas, TX.
To foster the spirit of fun and hospitality that the Smoky Mountain Gift Show is known for, Urban Expositions hosted an official show party at Blaine's on Thursday, November 2 and also continued many of its buyer-friendly services, including daily $100 cash prize giveaways, gift basket giveaways, goody bag giveaways, and complimentary show bags for buyers and refreshments each morning and afternoon.
On Thursday and Friday, the show partnered with the Zoo & Aquarium Buyers Group (ZAG) to host the Made in America Buying Tour, led by Michael Davis, President of ZAG (pictured right) and David Whitaker, for participating retailers on how to select the right made in America products for their store. Following the short presentation, retailers went on a buying tour on the show floor visiting exhibitors displaying Made in America products. In addition, Urban Expositions also worked with leading associations, including the Zoo & Aquarium Buyers Group (ZAG), and the Living Legends Association to host hospitality and networking events for their members and associates during the show. The Living Legends Association hosted a reception on Wednesday, November 1 to honor Jo Ferguson of Pawnee Bill's Indian Trading Post for his commitment and contributions to the souvenir industry.
The Smoky Mountain Gift Show will return November 4-7, 2018 to the Gatlinburg Convention Center. For exhibitor information, contact Christina Bell Davis, Urban Expositions, 1690 Roberts Blvd NW, Suite 111, Kennesaw, GA 30144. Phone: 678-370-0335, email: cdavis@urban-expo.com. For buyer information or to register, attendees can call 800.318.2238 or visit www.smokymtngiftshow.com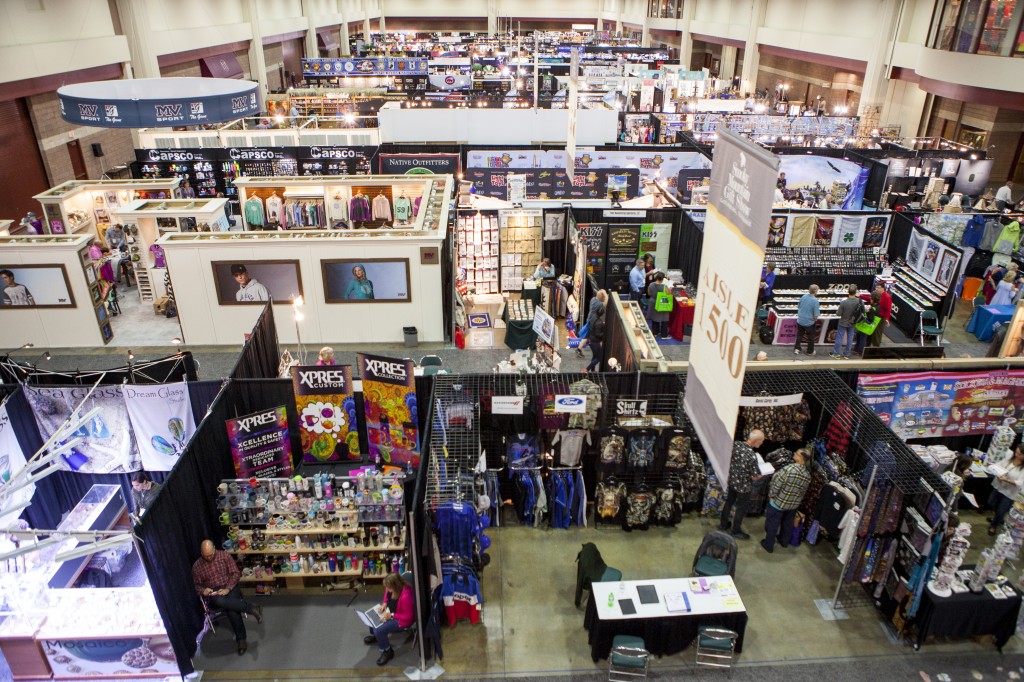 About Urban Expositions
Founded in 1995, Urban Expositions, now operating as Clarion UX and owned by Clarion Events, produces and manages a portfolio of 36 trade and consumer events, serving a range of industry sectors including Gift, Souvenir, Art, Aviation, Apparel, Foodservice, Specialty Retail, Gaming, Automotive and Enthusiast Lifestyle, with offices in Kennesaw, GA, Chicago, IL, Trumbull, CT, Portland, OR, and Boca Raton, FL. www.urban-expo.com