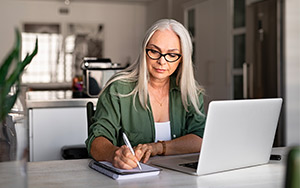 New year, new you! While the second half of 2021 is going much better than the first half, it has still been an oddball year for retailers. 2020 was spent tip-toeing around the pandemic, this year many businesses were transitioning back to normal, and 2022 is going to bring along some more big changes. Independent Retailer is here to make sure indie retailers are as prepared as possible.
Brands should always be looking to make improvements in their business models and customer experiences, and there is no better time to reevaluate the way you are running things than with beginning of the year resolutions. With advice from experts in the industry, here are some key areas that retailers should focus on in the new year:
Seamless Experiences In-Store & Online
Greg Chen, CEO and co-founder of Mobiz, says that omnichannel experiences will be huge in 2022. "2020 brought a massive change in consumer behavior and a massive boost in ecommerce, but as 2021 unfolds, we see a resurgence of physical and in-store retail. Retailers need to bridge the digital divide and find ways to engage with their consumers seamlessly in the intersection of online communications and physical experiences."
A great example of this is the use of an in-store QR code that collects customer information and offers an incentive to purchase. This allows retailers to re-engage later while providing a benefit to the customer, such as a coupon that is redeemable online or in-store, according to Chen.
Make Your Business Post Pandemic Essential
"Non-essential retail needs to take a look at what they can do to move up the chain to get closer to essential retail," Danny Estavillo, RevUnit's Senior Vice President of Growth, said. "During the pandemic, essential retail thrived (think home improvement and grocery), but non-essential retailers struggled because of massive consumer behavior changes that will likely become the new normal. Get a deeper understanding of your products and dive into how you can make them more valuable — understand your consumers more deeply to adjust your product mix more closely to their needs."
Find More Ways to Be Sustainable
An EPA calculator recently found that delivery emissions of FedEx, UPS, and USPS combined equal the annual emissions of more than seven million cars. According to the 2021 Consumer Intel Report by Vericast's Valassis line of business, millennials are taking notice of how their purchases impact the environment. The report found that sustainability is a top priority for millennial consumers, with 63 percent of millennials willing to pay more for sustainable products. Additionally, 72 percent of millennial parents are more likely to be loyal to a brand or store that shares its efforts to be environmentally responsible or has sustainable or ethical business practices.
AR and VR Experiences are the Future of Retail
Many retail conglomerates are experimenting with augmented reality and virtual reality customer experiences. In a report conducted by Wool & Water, they found that 83 percent of shoppers would buy from a retailer that offers AR/VR over a competitor that does not, and 54 percent have abandoned their online cart because they were worried how the product would actually look. Consumers are increasingly using VR, but retailers could improve their profits if they offered the experiences customers are looking for.
While AR and VR may seem like a daunting and expensive task, Jeff Bodzewski, CEO of Wool & Water, says the key is to start small. "It is a natural inclination to want to integrate an entire store or a new product line with this, but the reality is you should start with one hero product. You already have a good idea of how the product will perform, and it is a good test to understand how AR can give confidence online so hopefully retailers are seeing not only higher conversions, but also higher basket sizes," he said. Letting customers be able to virtually try on even just one product online can help reduce shopping cart abandonment and give your brand more recognition for bringing more innovation into the industry.
The way consumers are shopping now has permanently changed, and it is important for indie retailers to commit to finding new ways to engage shoppers and bring them in the store. Start the new year off right and give some of these tips a try.