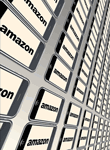 Amazon always encourages small business owners to sell on Amazon to thousands more people than they normally would if they just relied on their own website. Now, the world's largest online retailer is stepping up their game by opening a new Indie Beauty Shop in June of 2018, showcasing smaller beauty brands not easily found at drugstores or mass merchants like Sephora and Ulta.
According to reps from the BeautyX Retail Summit on May 7th, brands selling in the Indie Beauty Shop must be at least 50% owned by an independent operator, as opposed to a larger corporation such as L'Oreal or Unilever, and their products cannot be sold at larger retailers. Amazon takes 15% on sales of products from Marketplace brands selling directly to consumers, and the brands have to pay a monthly fee of $39.99.
Some of the brands already involved in this new shop include Maapilim, La Sirène, Divine Woman, Take My Face Off, Laguna Herbals, Nail & Bone, Gnarly Whale, No B.S., and Eleni & Chris, according to a Beauty Independent article. As the beauty shop establishes itself, the number of brands are expected to increase.
The level of exposure Amazon can offer smaller merchants could really help a business grow.
"It's good to be there," said Ebru Karpuzoglu founder of AveSeena, a skincare brand on the Indie Beauty Shop, according to Beauty Independent. "My brand is still a baby. It's 14-months-old and, to be honest, I was afraid that, if I got on Amazon, we were going to get lost in all the brands there. There are a ton of brands, what kind of exposure would we have? But with the Indie Beauty Shop, I think they're going to show extreme care and help the brands to make the platform perform on Amazon."
The level of exposure Amazon can offer smaller merchants could really help a business grow. Consumers are becoming more interested in no-name brands rather than huge moneymakers selling their products just for the name, and Amazon is realizing this trend and bringing what the customer wants right under their nose, so taking action on this could be crucial to your company.
Even with this new buzz, not every brand is eager to sign up. Amazon will often put the cheapest items at the top of the search results list, and sellers can find themselves dragged into price wars, according to a Business of Fashion article. Independently owned companies' fear getting lost in the crowd of sellers who may have more reviews or a cheaper price.
"Amazon reached out to me a couple months ago asking if I would be interested … I cut them off a little early, because I knew I wasn't going to do it," said Alana Rivera, founder of skincare brand Etta + Billie, according to Business of Fashion. "Most people view Amazon as an easy way to get anything at the cheapest possible price. I didn't want to be lumped in with a group of discounted goods."
There's also worry that Amazon will use this data to create their own brand-name products and start competing with the indie sellers, but the reality is the reason consumers are even shopping in the Indie Beauty Shop is because they want no-name brands; something unique that comes with a story. If Amazon were to create their own line, customers would lose interest and go elsewhere for their indie products.
This is proven with the decline in Victoria's Secret sales, according to Retail Dive. Last year, the lingerie company's sales were down, and their quarterly sales haven't been looking the best this year, either. The brand can't seem to get off of their push-up and sexy lifestyle clothing, which is not what consumers are shopping for now. Having a Victoria's Secret bra simply doesn't matter anymore; shoppers are going for comfort and, quite obviously, a cheaper price.
"Most people view Amazon as an easy way to get anything at the cheapest possible price. I didn't want to be lumped in with a group of discounted goods."
Beauty brands, and most indie sellers, know how to connect with their customers by offering personal experiences. Larger merchants like Target can't give customers a personal touch with each purchase, which is why smaller retailers continue to do well. So not only can indie sellers give customers that personalized touch with their purchases, but they can also give the convenience of receiving a package in two days.
Amazon also offers space to store inventory for companies, a logistical way to handle mass amounts of products for most small businesses, according to Business of Fashion. Even though this storage is a service indie brands have to pay for, it helps to avoid the upfront costs of renting their own warehouse space. Global shipping is also made easier through Amazon, which is something to think about for those brands wanting to make it outside of the U.S.
For smaller brands looking to get started and get your name out there, selling on Amazon might just be the way to go. The large e-tailer will take care of all the shipping and storage while you can focus on making a direct impact on customers and letting your story be known. Once you have established yourself, it might be a good idea to branch off on your own, and even open a brick-and-mortar location. But, Amazon and particularly the Indie Beauty Shop can be a good way to get started and gain exposure.