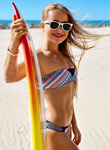 Produced in January and September in Orlando, Florida, Surf Expo is the largest and longest-running boardsports and beach/resort lifestyle trade show in the world. This trade-only event features more than 2,500 booths of apparel, watersport hardgoods, resort wear, swimwear, accessories, souvenirs, gifts and more.
Adrienne Belk, vice president of marketing for Surf Expo says "any retailer whose business caters to customers on or near water; be it ocean, rivers, lakes, pools, waterparks, cruise line, resort, can find everything they need to fill their shelves and service their customers at Surf Expo. They can see all the brands relevant to their business, and meet with the top-level management and executives, network with like-minded people, learn something new and have a great time."
In addition to over 2500 booths, Surf Expo has a full lineup of special events including fashion shows, award ceremonies, demos, and educational opportunities. "Buyers will definitely want to browse the agenda for our Professional Learning Labs," continues Adrienne. "We develop a line up of free seminars that take place on our main stage throughout the show, given by industry leaders and experts. They're immensely popular with retailers and even exhibitors—and we cover topics including merchandising, Amazon (beginner and advanced tactics), content marketing, ecommerce. We also hold more informal TED-style "talks" in our various lounges; including live website critiques, deep dive leadership boot camps and more."
Also during the September show, buyers can stop by the Imprinted Sportswear Show and American Handcrafted, sister shows that are also run by Emerald Expositions. "Buyers can visit these shows at no cost by showing their Surf Expo buyer badge," says Adrienne. With so much merchandise to see and events to attend, it's important to plan out your trip to Surf Expo ahead of time. "Use our show app and online exhibitor list to see who's exhibiting, and start making appointments early," says Adrienne. "We have a lot of our buyers who spend the first two days booked solid with appointments, then spend the third day browsing to see what's new. Others are booked solid all three days. Use our tools- we put a lot of effort into making our Surf Expo Show App be a true go-to for buyers." Register today by visiting www.SurfExpo.com.