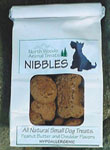 When Jean McCarthy started her company, North Woods Animal Treats, in 1996, her mission was clear: to provide the best possible, all-natural products that enhance the lives of both pets and their owners. She also wanted to make the experience positive and fun.
Baked by hand
The large dog cookies measure 5 inches, weigh 2 ounces and come in all the shapes of the North Woods: trout, pine trees, bears, moose. Not only are they fun and cute, they are baked by hand in small batches with "human-grade" ingredients sourced in North America, including whole wheat flour, wheat bran, canola oil, peanut butter, cranberries, flax, and honey. They come in a hand made rustic pine crate that can be re-used for years as a display case.
The company also bakes hypoallergenic small dog treats, called Nibbles. For horses, there are Nickers horse treats, flavored with real maple syrup, which can also be ordered as a private label for corporate gifts.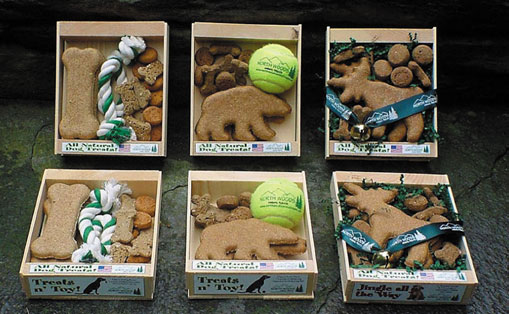 McCarthy, who is the proud owner of a golden retriever, two cats, and two horses, has spent her entire career in the pet and horse industry. Years ago, she saw a need for treats that were wholesome and simple. But mostly, she admits, she loves the fun part of it. "Training might be frustrating," she says, "but buying a treat is a happy experience."
In addition to the treats, the company is also expanding its non-consumable offering with U.S. made products including the Extra Leash, a five-foot leash with the collar attached; Soothing Paws, a natural paw balm for dogs' paw pads, nose, and elbows; and a canine collar bell that looks like something Santa's reindeer would wear. There's also the Nip n' Toy for cats, which is made of real sheep's wool felted around a bell, as well as a premium catnip. Next up is a dog bowl map created by a Pennsylvania floorcloth artist.
Buying details
North Woods' products are primarily impulse buys, and an ideal fit for gift shops and natural food markets. The company exhibits at various wholesale gift shows, including the International Gift Exposition in Pigeon Forge, and at natural food shows such as Natural Expo East.
Retail customers can order directly off the web site. Wholesale buyers must call for a password first. The minimum wholesale order is one display crate of 24 cookies, for $27 ($1 per cookie plus $3 for the crate) wholesale, and the cookies can retail for $2 to $3 each.
North Woods Animal Treats
63 Emerald St. #428
Keene, NH 03431
Phone: 877.692.6928
Website: www.northwoodsanimaltreats.com