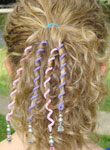 That's Perfect hair wraps have a slogan for almost every occasion, including, "So Easy A Daddy Can Do It," and, "Look Like A Braid, Wear Like A Barrette." CEO, Ron Alsup,  says they are the perfect hair wrap. That's Perfect introduced its line of reusable hair wraps in various sizes and colors in 2007. They come in 45 colors, and are made from a special type of colored polymer clay that is stiff enough to hold its shape, yet coiled and flexible enough to look just like an expensive braid.
The concept isn't new, but That's Perfect does it differently from any other product on the market. "At Renaissance festivals, you'll see women wearing metal coils in their hair to hold it in place," Alsup reports. "The concept of hair wraps has been around since the 1970s, but I took it one step further. I work in polymer clay instead, and make the coils from the clay." One of the key selling points of That's Perfect is their variability. They can be combined in different color patterns, so it's easy to show off school colors or hop on hot color trends. "Our biggest seller is the rainbow wrap," Alsup advises. They can also be made in two-color combinations, and come in two sizes: a 5″ and 9″ version. The 5″ has a single set of decorative beads at the end, while the 9″ has a double set of beads.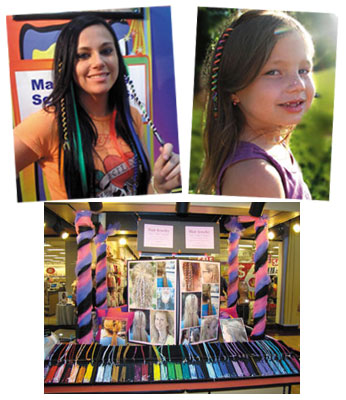 Alsup notes that the hair wraps sell well in boutiques and salons, as well as mall kiosks, shows, and flea markets. One of the keys to selling them successfully is to demonstrate the product. "I sell them at shows myself, and it's great to demonstrate it," Alsup says. "We have a mannequin up front with wraps in her hair, and no one passes by that table without saying something." That's Perfect also offers packaging and displays for retailers who are interested in carrying a more complete line, and the product can be ordered in individual cellophane packages with a UPC symbol.
Ordering and pricing
That's Perfect hair wraps may be ordered via phone or on the company's website, and wholesale pricing is available to qualified businesses. A lot of twelve 5″ wraps wholesales for $24 ($2 each), and four 9″ wraps wholesale for $14 ($3.50 each). The suggested retail price is $7 for a 5″ wrap, or $24 for four 5″ wraps. For 9″ wraps, the suggested retail is $13 each, or $24 for two wraps. All wraps are made in USA.
That's Perfect
P.O. Box 23
Oakland, KY 42159
Toll Free: 270-563-9272
Website: thatsperfect-ky.com