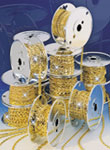 According to Inch of Gold, retail success can measured by the inch. Based in West Palm Beach, Fla., Inch of Gold has been a leading wholesaler of fashion gold and silver wholesale jewelry chain since 1982. The company's niche is do-it-yourself custom gold and silver chains. The products are offered on spools that consumers can touch and feel for themselves, then have measured and cut to their own specifications.
According to Vice President Bill Kretschmar, Inch of Gold chains are popular everywhere from gift shops to jewelry stores, theme parks, and even cruise ships. "Our concept is the chain is on a spool and the retailer cuts the chain so the fit is perfect," he says.
Inch of Silver
The company's biggest seller, the gold chain, is 18 karat layered gold on a base metal. There are many varieties of chain, from a delicate spun gold to heavier chains. The company also offers a separate line of silver called Inch of Silver, as well as a line of crystal chains that features crystals embedded into the chain for a sparkling effect. The complete product line-up includes a selection of clasps and pendants to complete the chains.
Lifetime guarantee
Inch of Gold makes it easy for retailers to set up and start selling its products. The company supplies the display, tools, training materials, and even limited marketing materials to all qualified retailers at no charge. Additionally, there are no contracts, no franchise fees, and all Inch of Gold chains carry a lifetime guarantee that the company will replace any chain for lifetime.

"The key to selling these successfully is to put them in a high-traffic area," Kretschmar advises. "Don't put the spools behind a case. You want people to be able to touch the chains and get involved. It's very interactive, and it'll draw a crowd when you're actually making the chain."
Making the chains is also very easy. Inch of Gold has perfected the process of cutting chains and attaching clasps, so any of the 150 styles of chains can be made into fashion jewelry within a few seconds, Kretschmar notes.
Ordering and pricing
It's easy to launch an Inch of Gold program at almost any sized retailer. For new customers, the company provides everything needed to begin selling chains at no cost. The spool displays are also small and "earn the real estate" with a small footprint and high margin. The company's standard recommended mark-up on all chains is 5x, so chains that wholesale for 20 cents per inch retail for $1 an inch.
Inch of Gold
3975 Investment Lane
West Palm Beach, FL 33404
Tel.: 800-854-3434
Website: www.inchofgold.com