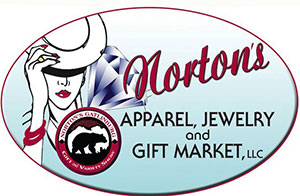 For 27 years, Norton's Apparel, Jewelry, and Gift Market has been all about the personal touch. That is sure to be the case once again June 7-9, when the all-season wholesale market returns to its home base, the Gatlinburg Convention Center. "So many of our exhibitors tell us we are their favorite show, and they feel like they are part of the Norton family," says Nikke Norton, sole proprietor of Norton's Gatlinburg Gift and Variety Show, LLC. She runs the show with her parents, Tom and Linda Norton, owners of the Gatlinburg Apparel and Jewelry Market, LLC.  The joint shows will also be held again later this year, September 6-8 and November 15-17.
Norton describes the mood of the event as, "very relaxed and laid back." There is always live music, with a saxophonist planned for June. In November the Nortons give their exhibitors Christmas gifts, and Linda Norton visits each booth and personally thanks exhibitors for coming at the end of every show.
Cash-and-carry
All exhibitors offer order-writing and cash-and-carry, which Linda calls, "wildly popular and preferred by our family of exhibitors and buyers." She had buyers filling several dollies at once with merchandise at the last show; others have been known to come in on the last day and clean out booths to stock up their stores.
Trend spotting
Nikke Norton is known across the fashion industry as a trend spotter, and eagerly offers an insider's view of what's hot for summer. "The colors right now are coral and aqua. They are everywhere. And the number one seller is leggings in bright colors and patterns." As far as jewelry, she says, "We are talking huge, chunky pieces with crystals and lots of bling," like pieces from jewelry designer exhibitor, Renee Tompkins of Puttin' On the Glitz. For the feet, there are peep-toe stilettos to go with the leggings. The accessory Norton can't get enough of? Jeweled handbags by another exhibitor, Raviani.
Norton is also seeing diversification across the show's buyers, with retail business owners becoming increasingly savvy about ancillary products they can carry to grow their businesses. "I'm seeing hair salons, for example, incorporating jewelry into their businesses, or headbands with crystals. There is a new niche of smart businesses out there that are broadening what they buy."
Registration
The Norton Shows are open to the trade only. Store owners do not have to pre-register to attend, but it is advised. To qualify and pre-register, click here. For the latest updates on exhibitors and show news, visit the Norton Shows' Facebook page, here.
The Norton Shows
P.O. Box 265
Gatlinburg, TN 37738
Tel.: 865-436-6151 or 865-436-6158
Fax: 865-436-6152
Website: www.nortonshows.com