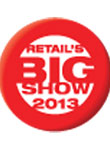 NRF's 102nd Annual Convention & EXPO is beginning this coming weekend and will be held Jan. 13-16 at the Jacob Javits Center in New York City. Thought leaders, retailers and vendors from around the globe are preparing to learn and network at Retail's BIG Show. From mobile retailing and sustainability, to research and global issues, this year's will offer the  education and opportunities retailers need to continue evolving their businesses. This year's BIG Show highlights include keynotes from Wal-Mart's Bill S. Simon, the United Nations' Kofi Annan, Macy's Terry J. Lundgren, Whole Foods' Walter Robb, Starbucks' Howard Schultz, and The Container Store's Kip Tindell, among others. Retailers also can check out the Main Street Retailing Forum, Shop.org's First Look, the EXPO Hall, and the full schedule of educational sessions. The industry event is on pace for a record-breaking year with more than 25,000 attendees.
Whether this is your first time attending, or your twenty-first time, Retail's BIG Blog offers 10 thingsyou should know before you go.
1. Download the mobile app. Whether you're looking for the precise location of an exhibitor, searching for sessions about global retailing, keeping up with the #nrf13 Twitter feed or planning your schedule, this app will be a valuable resource. It's free in the App Store and Google Play, and there's a web-based version, too. Tip: Download the app before the show, check out these quick tips to get started, and plan your schedule beforehand to hit the ground running at the show.
2. Review the Quick Guide. Prefer a hard-copy guide to the show? Download the NRF's Quick Guide and get up to speed on all the happenings at the show. Don't forget to pick up your full conference guide at the EXPO and session entrances.
3. Avoid lines at the Convention Center with satellite registration at the Marriott Marquis and the Sheraton New York Hotel & Towers. Tip: Bring your registration confirmation email with your barcode to speed through the express lanes at both satellite and onsite registration.
4. Don't miss the TWO EXPO Halls and the new EXPO Level one Preview Reception. The EXPO is the heart of the action at Retail's BIG Show, and this year the NRF is celebrating the opening of its new EXPO Hall (EXPO Level one) with a Preview Reception on Sunday night. Both EXPO Level three and Level one will be open for business Monday and Tuesday, featuring nearly 500 solution providers. Tip: EXPO-only attendees can go to all the educational programming in the EXPO, too. Check out sessions on the EXPO Stage (Level one) and the Exhibitor BIG !deas sessions (Level three).
5. Follow the show on Twitter at @NRFnews, @RetailsBIGShow and with the hashtag #nrf13 for the latest updates. The NRF also will be updating its Facebook page, and will have coverage on Retail's BIG Blog during and after the event. Also, be sure to check the Retail's BIG Show event site for daily recaps, videos and more. Tip: To find out which of your LinkedIn, Facebook or Twitter contacts are also attending Retail's BIG Show, use this tool.
6. Tell your colleagues—we're live-streaming three keynotes from the BIG Show. If they can't join you at the show, tell your team back at the office to tune in for three outstanding keynotes on Sunday, Monday and Tuesday. The three sessions feature some truly remarkable retail leaders. A senior executive from Mango on Sunday; a Monday keynote with CEOs from Starbucks, The Container Store and Whole Foods Market; and the Walmart U.S. CEO on Tuesday. Tip: To see even more recorded presentations after the show, purchase the audio presentation package for access to session recordings (subject to speaker permission).
7. Relax in the NRF Members Coca-Cola Happiness Lounge. New this year, NRF, Shop.org, NCCR and ARTS members have a special place to relax, recharge their mobile devices, check in with the office or enjoy a bite to eat. You'll find the NRF Members Coca-Cola Happiness Lounge on Level four of the Convention Center. Tip: Members, don't forget the Members-Only Luncheon on Tuesday honoring Ohio Council of Retail Merchants President and CEO John C. "The Chief" Mahaney, Jr with the J. Thomas Weyant Lifetime Achievement Award, accompanied by guest speaker Neil Pasricha, author of The Book of Awesome.
8. Take a behind-the-scenes tour of some of New York's coolest stores. The store tours at Retail's BIG Show are now self-guided audio tours that you can do on your own schedule. Purchase the audio guide and map to get an inside look at innovative retail environments like Eataly, Nike Running Flatiron, Ralph Lauren and more. Tip: Store Tour quantities are limited, so update your registration now or ask first thing when you get on site.
9. Get first-hand insight from retailers on Main Street. New this year, the Main Street Retailing Forum is a full day of programming designed specifically for small-business retailers. The Forum is included in a full-conference retailer registration, and open to Retail EXPO Only attendees for a $175 fee.
10. Bookmark the Resource Center. You'll find links to shuttle schedules, onsite registration hours, EXPO floor plans, registered companies, International Resource Center, and everything else you could need.