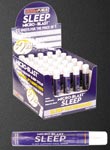 NutraFuels, a line of oral sprays that supplies nutrients to the body, is unlike other energy supplements and remedies on the market. With a background in sports nutrition and fitness spanning 25 years, NutraFuels' CEO Edgar Ward worked to develop a line of supplements that would be both efficient and effective. "We worked with a research and development team to learn about the effectiveness of this oral spray delivery system, and we were very impressed," says Ward.
NutraFuels held its official launch early this year and is taking wholesale orders now. Retailers can choose from four formulas: Energize, containing vitamin B-12 for caffeine free energy; Sleep, with melatonin, GABA and valerian root; NRG-X, a caffeine based energy supplement; and Body Slim, with raspberry ketone, an appetite suppressant made popular after being praised on Dr. Oz. Later this year, NutraFuels plans to add more formulas, including one to help boost the immunity system.
NutraFuels allows nutrients to be absorbed without passing through the digestive system, and research shows the product's absorption rate is 98 percent. In addition, NutraFuels takes effect quickly without the side effects some consumers experience after taking a vitamin pill or drinking an energy beverage. "The spray application also allows users to control their own dosage, because it's non-aerosol," says Jimmy Varga, national sales manager. "In addition, customers receive several doses in a single purchase. It's a strong selling point." All sprays are sugar free and considered safe for diabetics, and contain none of the fillers or waxes used in many vitamin pills.
NutraFuels wholesales for $1.70 per quarter-ounce unit, which supplies eight to 10 doses, and retails for $2.99. The company offers a variety of rebate and retailer programs designed to drive sales, and free displays are available upon request. Each display coordinates with the formula it holds and states the retail price, and three sides of the displays feature brief product descriptions. Ideas about how to sell the product, including a sales video, television commercial and radio clip, are found on NutraFuels' wholesale website. "We also offer in-store and event promotions to engage both our retail partners and consumers," Ward adds. "With our consumer advertising strategy, we can assure our retail partners' success and profits."
For more information:
NutraFuels, Inc.
624 Six Flags Drive, Suite 203
Arlington, TX 76011
Toll Free: 888-418-0783
Website: www.nutrafuelswhls.com