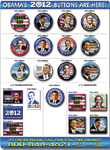 Since 1936, N.G. Slater Corporation has been a leading source of custom imprinted promotional products, specializing in political campaign buttons and assorted products. Robert Slater, president, confesses, "Normally the Presidential Campaign buttons are not a popular retail item, but every so often there is a candidate that the public cannot get enough of." In 2008, Obama was a merchandise phenomenon, as N.G. Slater sold millions of assorted button designs with Obama pictures and slogans. It is forecasted that reelection year, 2012, won't be any different. Slater notes, "We are already getting calls from all over inquiring what we will offer for 2012." Obama campaign buttons will be back, with a minimum order requirement of 75 buttons at $0.75 each, or a total of $56.25 wholesale. A purchase of 1,000 buttons or more reduces the price to $0.50 each.
Obama Buttons Becoming Hot Collectibles
N.G. Slater primarily supplies wholesalers, street peddlers and flea market vendors, but the Obama merchandise phenomenon peaked retailers' interest in the Obama campaign buttons. Slater says, "Retailers carrying the product reaped the benefits, as the buttons easily retailed for $2 each, and for New York City retailers, $3." With well over 15 buttons in three different sizes, Obama campaign buttons could become hot collectibles. While most buttons display the candidate's face, there are some with witty slogans such as, "Obama Got Osama." Other buttons propagandize controversial topics such as the, "Born in the USA" button, with a picture of the candidate and a picture of his birth certificate in the background.
N.G. Slater produces custom imprinted T-shirts, advertising specialties, promotional items and more. In fact, N.G. Slater has been recognized by the Federal Government as the creator of the Smile Button, which originated as an in-store marketing campaign, promoting friendly service among retail staff. While N.G. Slater is looking to increase its wholesaler and retailer customer base, the company also looks to continue custom work for organizations and advertising agencies around the world. Slater notes, "We've earned a great reputation for quality merchandise, competitive pricing, and superior service."
For more information:
N.G. Slater Corporation
42 West 38th Street, Ste. 1002
New York, NY 10018
Toll Free: 800-848-4621
Fax: 212-869-7368
Email: info@ngslater.com
Website: www.ngslater.com