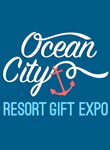 The Ocean City Resort Gift Show, the Northeast's largest souvenir and resort industry trade event, returns to the Roland E. Powell Convention Center in Ocean City, MD from November 11-13, 2018. Custom-tailored to the specialized needs of coastal retailers from Maine to Virginia Beach, this show features 300+ booths filled with best-selling designs, top brands, new introductions, and new resources. Backed by a full range of buyer services and resources, including discounted travel options and free parking, the 2018 edition makes it easy for retailers to maximize business travel savings and time away from their shops.
"Northeast coastal retailers know this is the place to find all of their new product resources for the coming season, including countless new nautical, souvenir and resort resources and more," says April Holinek, show director, Ocean City Resort Gift Expo.
Show Highlights Include:
Custom-Tailored Product Selection
With more than 300+ booths filled with the industry's leading names and creative new designs, every product category will be represented, including resort, gifts, souvenirs, novelties, nautical/coastal items, licensed products, beachwear, general gift and much more.
New Jersey Retailer Program
The Ocean City Resort Gift Expo will continue to offer its buyer incentive program for qualified retailers with shops in New Jersey. Participating retailers may qualify to receive a round trip ferry ride and a complimentary one-night hotel stay.
Travel Savings on a Great Business Vacation
Attendees can take advantage of terrific off-season hotel rates in Ocean City, MD by contacting Connections at 855.246.8722 or visiting www.oceancitygiftshow.com and click the travel tab.