By Kevin Zimmerman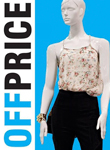 OFFPRICE is at it again, this time with shows back to back in May and June. After being absent from the area for several years, the OFFPRICE trade show– dedicated to bargain apparel, accessories and footwear — is returning to Miami, June 28-30. The key to returning to Miami was finding the right dates and the right partner, according to Stephen Krogulski, CEO of the OFFPRICE Show. Both goals were achieved by connecting with Shoe Markets of the Americas (SMOTA), which showcases footwear and accessory companies. Both organizations feature everything from high fashion to large branded businesses, and Miami's status as the "Capital of Latin America" ensures that attendees will come away with a better understanding of the Latin American and Caribbean markets. "The SMOTA folks are well-established in the Miami market," Krogulski says. "And by joining forces, we each will make this an even more attractive event."
During its time away from the Magic City, OFFPRICE focused primarily on growing its cornerstone Las Vegas show, which was held Feb. 15-18 at the Sands Expo & Convention Center and drew some 8,460 buyers — the highest attendance in that show's 40-year history. Miami, like its New York City counterpart, is designed to be a smaller, more regional affair. OFFPRICE's New York City show will take place on May 3-5, 2015 at Gotham Hall. "This is the perfect time for any retailer or merchant looking to add summer goods to their stores. We will be right in the heart of the garment district so there is no better area to be near." The show will have 70 booths, all for immediate delivery, filled with apparel and accessories. The Miami show will prove to be a bit larger, with Krogulski saying that there is space for 100 booths on the Miami Airport Convention Center (MACC) floor, with 60 to 70 vendors and over 1,000 attendees expected.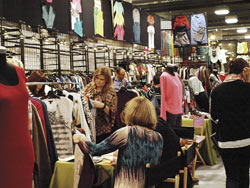 Such smaller shows, Krogulski says, "allow us to take the essence of OFFPRICE and apply it to a regional market, offering an opportunity for vendors to introduce or re-introduce themselves to customers while staying closer to home, which can be a big consideration if they cannot make it to Vegas for whatever reason." At the New York City show there will be over 130 vendors with showrooms located on the surrounding blocks with merchandise to be sold in addition to the 70 booths inside. Not only do these vendors participate in the New York show but also travel to Vegas. The show continues to promise "the best values available," ranging from 20 to 70 percent below wholesale prices. Both the New York City and Miami show's smaller size will allow retailers the chance to meet with every exhibitor present. Krogulski says, customers can preview fall trends and strategize their back-to-school sales and specials, which is something offered at both shows. Placing large orders for a given product at a low price point is a common occurrence at all OFFPRICE shows.
"There are plenty of opportunities at all of our shows for retailers to secure fantastic deals," Krogulski says. "And there is always a lot of anticipation going in. This is a way of finding out not just what is available now, but also discovering what goods are in the pipeline and are available for us to close out." Confirmed exhibitors include Almost Nothing Inc., Bingo Off-Price Inc., Deals Wholesale, India Boutique Inc., Klayman Pants Co./Off-Price Wearhouse, Leather Impressions, Inc. and TBI Apparel. SMOTA, which will be located on the MACC's first floor, is expected to have upwards of 700 booths; plenty of traffic is expected between it and the OFFPRICE space on the venue's upper level.

"We are always looking for new opportunities," Krogulski notes. "With OFFPRICE and SMOTA being such like-minded groups, the focus will be on providing affordable, fashionable value. We were fortunate to find such common ground — they had the space, and we had the drive and desire." OFFPRICE Miami will run on Sunday, June 28, from 9 a.m. to 6 p.m.; on Monday, June 29, from 9 a.m. to 7 p.m.; and on Tuesday, June 30, from 9 a.m. – 3 p.m. A cocktail party is scheduled for 6:00 p.m. on the 29th, with complimentary wine and beer available on the show floor. To register, or for more information on any of the three OFFPRICE shows, visit: www.offpriceshow.com.