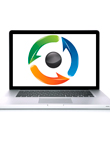 Gone are the days when an eTailer must review, license, learn, maintain, upgrade and log into multiple systems to be able to accomplish all the tasks necessary to manage the business. SimOneEMS is the first eCommerce Management System that allows eTailers to manage every eCommerce process from one interface with one database for multiple companies.
"When you have one database, the data for every event is readily available for sharing between every aspect of the business," said SimOneEMS founder and CEO Ikey Bahar, "orders, listings, inventory, shipping, returns, repricing, everything. Especially Customer Service."
One system and one database enables seamless workflow, less redundancy, real time reporting, less errors and frees up the business owner to readjust their time and resources.
"At SimOne we want more than just customers," said Bahar, "we want to use our knowledge and experience to help our Client Partners grow."