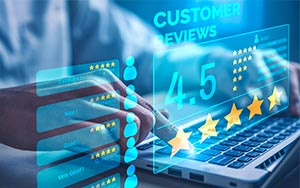 The ecommerce world has changed dramatically since the height of the pandemic, and now that many consumers are used to shopping online, these changes could be here to stay. Probably one of the bigger changes is the importance of online reviews, which have become a huge factor impacting online purchase decisions, even ranking above price, free shipping, brand, and recommendations from family and friends.
PowerReviews, a conversion-first UGC vendor that helps brands and retailers grow their businesses, surveyed more than 6,500 consumers on the increasing importance of product reviews to establish trust and drive purchase behavior. The survey found that ratings and reviews are the most important factor, which marks a shift in consumer behavior. Similar surveys fielded by PowerReviews in 2014 and 2018 revealed price to be the most important influence with online purchase decisions.
Trust Can Help Boost Consumer Optimism
Establishing trust between a brand and shoppers is something that has been building up for the past few years. A 2021 Consumer Optimism Outlook Study also reveals new shifts in brand loyalty, confirming that consumers increasingly want to feel a sense of consistency and trust with the retailers they choose to purchase from. The share of customers that said they are more likely to purchase from a brand or store they trust has significantly increased from 71 percent in 2019 to 76 percent in 2021. Corporate social responsibility (CSR) efforts and sustainability matter now more than ever as well, with 54 percent of respondents saying they are more likely to be loyal to a brand that has sustainable and ethical business practices.
"Consumers want to be optimistic, but at the same time, there is reticence," Sarah O'Grady, Vice President of Brand Marketing at Vericast, said in a release sent to Independent Retailer. "To successfully engage with consumers in their current state of mind, brands should offer them familiarity, authenticity and meaningful savings due to the economic disruption caused by the pandemic. Digital will continue to grow in importance, but so will the value of personal connections. Marketers can win with messaging rooted in humanity, via channels that cut through the noise in the moments that matter."
Shoppers Rely on Authentic Reviews
Customer ratings and reviews have become so important on the path to purchase, according to the PowerReviews survey, that almost four in five consumers say they will not shop on websites without user-generated Voice of the Customer testimonials about their product experiences. Seventy-nine percent of shoppers specifically seek out websites with product reviews, up from 63 percent in 2018. Millennials are also the generation most likely to seek out websites with ratings.
"At a time when faith in institutions is low, genuine and authentic customer feedback is vital to earn consumer trust and demonstrate transparency for today's shopper. Ratings and reviews are a uniquely strategic tactic to help build this brand trust and authenticity for consumers. Shoppers need to be able to trust the brands and retailers they shop from, and want to understand what other consumers think and feel about the products they are looking to purchase," Andrew Smith, VP of Marketing at PowerReviews, said.
Negative Reviews are an Important Tool for Shoppers
There is no reason to be afraid of negative reviews on your website. In fact, negative reviews can still help to gain consumer trust and earn a sale not only because the customer knows it is a genuine rating, but also because they can see how you respond to the unhappy customer to make things right. According to the PowerReviews survey, 96 percent of respondents specifically look for negative reviews at least sometimes, and over half (52%) of shoppers specifically seek out one-star ratings. Consumers get suspicious of products with an average star rating of five out of five, so the important thing is to be honest and respond to negative ratings so customers know you are listening to them and care about what they think of your merchandise.