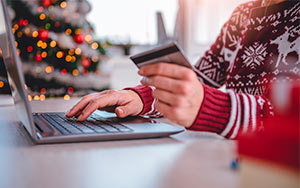 With the gradual reopening of the economy and post-pandemic recovery on the horizon, retail sales continue to experience an uptick: May retail sales reflected a 6 percent increase above the first quarter monthly average, hinting at growth for many retailers across the U.S. With consumers spending more heavily in restaurants, gas and clothing categories that were once suffering amid COVID-19, a deeper recovery for retailers could be well underway.
Increased Holiday Spending at Small Businesses
"I think in a lot of ways, what is fueling this uptick in sales is customers wanting to reclaim all of those moments that were lost last year between birthdays and holidays and not being able to celebrate together, and that is a big factor this year," Mike Rittler, head of Retail Card Services at TD Bank, said. "They are going to want to spend more time together, and there is more travel involved as well as entertainment, events, activities, and gifts. I think as we get into the holidays, you will see all of that, combined with the lower debt loads that everyone was carrying, which will bode really well for a strong holiday season."
A consumer survey from Adtaxi, one of the nation's fastest-growing digital marketing agencies, reported that 63 percent of respondents plan to shop at small and local businesses after the pandemic. This follows their report from last year which indicated that 74 percent of respondents said they planned to shop small and local for the holiday season.
"Despite the steady rise of ecommerce, our data shows that many consumers are eager to support small and local businesses. This is not an inherent contradiction — with the right digital strategy and ecommerce capabilities, small businesses have an exciting opportunity to grow and thrive as the economy reopens," Chris Loretto, EVP of Adtaxi, said in a release sent to Independent Retailer. "Getting organized with smart data practices and responsive online offerings is a strong first step for businesses of all sizes."
Economic Confidence on the Rise
The COVID-19 vaccinations are helping to increase consumer confidence in the economy. According to the Wall Street Journal, in March 2021, consumer confidence rose to its highest level since the pandemic started over a year ago, with Americans expressing more optimism about businesses and labor-market conditions in the coming months. WSJ said The Conference Room Board's consumer-confidence index increased to 109.7 in March from 90.4 in February. Even though the reading marked the third-consecutive monthly increase, the index remains below a pre-pandemic level of 132.6 posted in February of 2020. We may still have a way to go, but as more vaccinations get distributed and the holiday season rolls around, small businesses will continue to recover.
More Shifts in Purchasing Behaviors
As consumer confidence continues to rise and they move beyond the confines of their homes more in the coming months, home-product buying will also continue to adapt. Following a year of extraordinary growth, sales momentum has endured. According to The NPD Group, consumer demand for home products in 2021 is expected to be similar to 2020, with 15 percent higher unit sales than pre-pandemic levels in 2019 and 25 percent higher sales revenue.
"As consumers return to the activities they enjoyed prior to the pandemic, fundamental behavior changes, as well as waning pandemic-lifestyles, will all play a role in pushing 2021 sales beyond pre-pandemic levels," Joe Derochowski, home industry advisor at NPD, said in a statement sent to Independent Retailer. "Specific category growth will be a reflection of these evolving consumer needs."