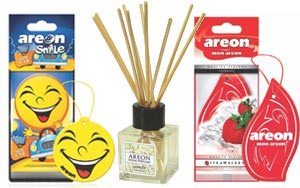 Now that more consumers are getting out of their houses and hosting parties for friends and family, air fresheners are a great way to make any home inviting and smell amazing. They can also be placed inside cars, bathrooms, closets, and basically anywhere to freshen up the space. From exclusive items to the average brand, R. R. Lalena has every type of air freshener your store needs to keep you stocked and ready for business.
The company offers air fresheners, car accessories, microfiber cloths and towels, flashlights, tools, keychains, glasses, batteries, health and beauty products, and many others. What makes R. R. Lalena unique is their exclusive product lines that are highly sought after by consumers. Their premium air fresheners are imported from Poland and Bulgaria, and their quality mats are imported from Taiwan. All of the company's microfiber products, steering wheel covers, tire gauges, and more are imported from China.
Having been in business for 31 years, R. R. Lalena is a wholesale distributor of air fresheners, impulse items, auto accessories, car wash chemicals, and more. The company's expertise has been in serving the retail industry for convenience stores, novelty stores, super markets, dollar stores, and more. R. R. Lalena is dedicated to communicating with customers and assuring their satisfaction. For them, it is more about the relationships rather than the money.
R. R. Lalena
59-26 55th Drive
Maspeth, NY 11378
Tel.: 800-752-5362
www.rrlalena.com