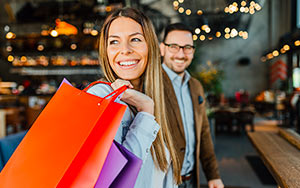 Small business owners report they are doing better than expected as the economy continues to gain steam amid the waning pandemic, according to the results of the 2021 Small Business Survey by TD Bank®. The survey polled more than 750 small businesses nationwide with less than $5 million in annual revenue, from sole proprietors with home-based businesses to professional services and retail. It showed that 41 percent of small business owners expect to grow their revenue in 2021, while only 9 percent anticipate a decline.
Eyeing Expansion Over Extinction
The myth that the pandemic killed brick-and-mortar shopping is being proven false. Only three percent of respondents plan to close permanently in the next year, and two percent plan to sell their business. Additionally, 57 percent of small business owners expect to expand hours and/or operations, and nine percent will add a business location within the next 12 months. This increase in retailer confidence can be attributed to the rise in consumer spending.
Optimistic About the Improving Economy
TD Bank is not the only bank noticing a rebound in small business confidence. Back in March, Bank of America conducted a 2021 Small Business Owner Report, which was a survey with responses from nearly 1,000 small business owners. In the report, 56 percent of respondents said they were confident the local economy would improve, which was a significant rise from 39 percent in fall of 2020. Half of respondents anticipated that the national economy would expand, up from 37 percent last fall.
Consistent with last fall, business owners' top concerns for the year ahead included the U.S. political environment (71%) and health care costs (64%), according to the Bank of America report. Concerns that have declined significantly from last fall include the coronavirus pandemic (55%, down from 75% in fall 2020) and consumer spending (46%, down from 56% in fall 2020). Conversely, business owners expressed increased apprehension over macro factors such as commodities prices (59%, up from 42% in fall 2020), corporate tax rates (52%, up from 44% in fall 2020) and interest rate increases (46%, up from 35%).
The Transition to Digital
The Bank of America report also provided important insight into strategies small businesses are adapting to pave the way for a rebound. For example, 62 percent of respondents said they have been building a digital strategy, which included finding new ways to interact with customers virtually, doing more business banking online or in mobile apps, finding new ways to interact with employees virtually, accepting more forms of cashless payments, and creating/improving their social media presence.
These heartening figures from both surveys confirms just how much the small business community is progressing as the nation continues to lift lockdown restrictions. Retail spirit is thriving, and there is no sign that it is slowing down anytime soon.