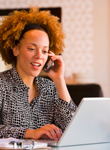 Businesses and consumers all over the world have been using Microsoft Office since it's initial release in 1990. It's helped to keep businesses organized and easy flowing. But now, organization and communication has never been easier as new wave technology continues to stream its way into our lives. Programs like Google Drive can help keep your business organized, running more efficiently, and actually reduce start-up and running costs.
For independent retailers, Google Docs can be a godsend. According to an article by Tech Radar, the vast majority of users reported that they use less than ten percent of the features offered from Microsoft Office. Google Docs enables your business to spend less time learning about software you most likely won't use and more time learning about the right applications needed to run your enterprise.
Google Drive is a file storage and synchronization service developed by Google. Launched on April 24, 2012, Drive allows users to store files on their servers, synchronize files across devices, and share files. Content such as documents, sheets, slides, and photos can be stored inside it. Drive offers real-time collaboration with other employees to make people more productive. Josh Smith, a Project Manager for Google Drive, shared some good advice as to how this program can grow your business and keep everything running smoothly.
"Google Drive is really viable," Smith said. "Especially in the indie business space, when people have less time, we make content easily accessible and affordable. It's very user-friendly."
Drive can be really helpful when it comes to start-up costs. A free trial is offered for those who want to test the program out first. The first 15GB of storage are free, and 100GB costs as low as $1.99 per month. They now also offer a terabyte of online storage for $9.99 a month.
According to Smith, switching over to Drive doesn't mean you have to completely forget all about Microsoft Office. They actually try and make the program so you can work directly with Office programs, such as offering the ability to comment right on Office documents in Drive. So let's say someone sends you a file and they want you to look at a certain paragraph in a Microsoft document, Drive will take that paragraph and store it into their own file, so that way you can share the paragraph with as many people as you want without sending a bunch of Microsoft documents everywhere. You can also open a Microsoft document and save it directly into Drive, an extension that makes it easier for all members involved to see.
Here are some other ways Google Drive can help small businesses:
Allows you to comment on documents in real-time so less time is wasted sending things back and forth for approval and updates
They use optimal character recognition so each individual knows where they left off on a project, even while other people have been editing it
They have a good infrastructure for security offerings and make sure 99% of spam is blocked, and give businesses the ability to share documents with only certain people, so the information stays secure
Google Drive is made to be as user-friendly as possible, and for small businesses that don't want to get themselves involved a complicated system, this is the way to go. Today, more than four million paying businesses are using G Suite. If your business is looking for an easier way to make things more productive, it might be time to hop on the Google Drive bandwagon.