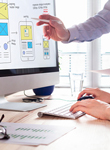 By Serban Enache, CEO, Dreamstime.com
In today's digital world, every business needs an online presence, whether you sell organic baby clothes, gourmet barbecue sauce, or marketing services. Most consumers do online research before making purchasing decisions and your website informs how they view your brand. A professional, polished website is a key opportunity to make a good first impression and put your company's best foot forward. Visitors associate consistent product packaging and good website design with a well-managed business, and that builds trust.
Here are 5 tips for how to design a website that helps grow your online business.
Increase Brand Awareness
Logos are powerful. A brief glimpse of a green double-tailed mermaid and the immediate association is "Starbucks." That Apple icon? It's, well, iconic. Visual representations of a business are a key way to build brand recognition and awareness, as images tend to stick in people's brains more than words. This is as true for massive multinational corporations as it is for small businesses. Logos are a quick way to convey something about your business, its products, and its values. Good website design features a distinctive logo prominently, so anytime a customer sees that logo, they think of you. Use a logo in various iterations across your website and another social media pages and posts.
Showcase Brand Creativity
Regardless of sector, every business benefits from being creative. Creativity is how companies stand out in competitive marketplaces and customers appreciate and gravitate towards products and services that exhibit creativity. It's human nature to pick something that looks interesting and unique over something that looks boring. A website is an opportunity to convey your artistic and aesthetic vibe and the values that go along with it. Whether your target demographic is women, people under 25, or finance professionals that should be reflected in the website's visual appearance. Branding design elements should give your business a persona that customers can relate to.
Promote Good User Experience
Good website design is about more than coordinating colors or trendy fonts. It's just as much about function as form. A functional website interface that customers can easily navigate is absolutely essential, as today's consumers have little patience for websites that are confusing or don't work and will take their business elsewhere. For example, Dreamstime.com allows users to easily search for the photos they need immediately upon accessing the homepage of the website. In addition to being clear, a website needs to offer robust functionalities, including the ability to make online orders, make payments, update accounts, and more. It should be an intuitive experience that anticipates the needs of a customer.
Improve Product or Service Perception
A website is an opportunity to help online businesses by improving customers' perception of your brand. A professional, polished web design presents a business that is well managed and won't, say, lose an order or send faulty products. Websites and packaging are an opportunity to tell a brand's story and make a brand seem relatable, which can boost customer satisfaction and loyalty.
Organize and Simplify Your Catalog of Products and Services
Good graphic design is organized and streamlined. Website visitors shouldn't be inundated with tons of "stuff" when they arrive on a webpage. Less is more. Highlighting what's most important and focusing on the products that really matter is the best way to capture and keep people's attention. At the same time, customers want options, so make sure to present them with flexibility, like multiple shipping tiers, before they decide to click away and you lose the chance to generate a sale or lead.
Every brand has different design needs depending on what they sell, how they sell it, and who are they are trying to reach. That said, there are steps that brands can take to design websites that have a positive impact. A website is an opportunity to tell the world who you are and connect with customers, so don't let it pass you by.