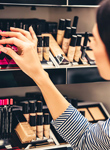 In today's consumer climate, independent and startup businesses are dressed to kill. This is especially true for the over $445 billion beauty industry, which is expected to reach $750 billion by 2024. Beauty products include everything from the rapidly growing skincare market, makeup, hair care, and home spa products. While many indie and Instagram brands are dominating this surge, Amazon is getting in on the trend, too.
According to a new study from OneClickRetail, In 2017 Amazon "began to see a significant shift in the Beauty market: growth moved away from mass market consumables in favor of higher end beauty products." In 2018, their total beauty product group grew by 30% during the first quarter, and luxury grew by 57%, nearly double the rate.
The study says, "The biggest trend today is that consumers are willing to spend more for high-end beauty products — and increasingly so. For over a year now, professional salon & spa has been the fastest-growing beauty category on Amazon, nearly doubling in size and driving so much traffic that Amazon recently introduced a unique badge for items classified as Professional Beauty."
According to Money, the average woman will spend $43 on a makeup shopping trip. This adds up to over $15,000 during a lifetime. In another study done by Groupon, the women surveyed who said they routinely spend money on their appearance spend an average of $3,756 a year (or $313 a month), which adds up to $225,360 over a lifetime.
Insta-Brands Dominating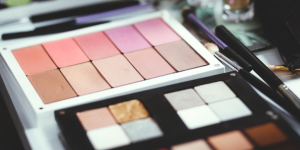 Social media influences 66 percent of beauty purchases. However, Larissa Jensen, a beauty industry analyst at NPD reports that 37 percent of makeup consumers shop in beauty specialty stores. In fact, sales at specialty stores increased by 42.7 percent in 2016 and now account for 20 percent of beauty sales.
Successful specialty retailers are using social media to drive sales online and in-store. What does this look like? Valuable, informative posts partnered with strong visual branding. Many companies utilize influencers, but a more organic approach is to utilize store employees and enthusiastic customers as your own influencers. According to Glossy, by using employees as influencers and compensating them based on sales, Macy's "avoids wasting money on social media stars who later reveal fake followers, require extensive contracts or fail to actually drive sales." In other words, tap your existing talent to help authentically showcase products.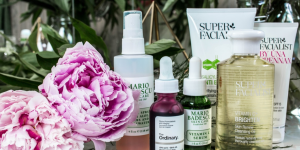 Beauty's Transparency Issue
Shoppers increasingly seek out independent brands in search of transparency, quality, and organic products. But ingredients aren't the only opaque element. Extremely high markups are common in the beauty industry, and play a big role in its profitability.
Companies such as BeautyPie are trying to bring more transparency to the beauty industry by sourcing directly from manufacturers and cutting out middlemen costs. At the NRF Big Show in January, Beauty Pie founder Marcia Kilgore said, "transparency is the new cool" and that beauty shoppers are tired of paying 1000% markups.
For independent retailers, providing transparency in beauty products probably looks a little different. There are many local makers who produce handmade skincare and cosmetics with organic ingredients. Shopping small means frequenting main street retailers, but also buying local brands. When it comes to transparency, indie retailers have a leg up as long as you source smart.
Balancing Aesthetics and Ingredients
In an era of #shelfies, beauty packaging is just as important as the product itself. Shelfies are pictures of your medicine cabinet, bedroom, or bathroom shelf showing off skincare products. Do your products have an Instagram-worthy aesthetic? The question may sound silly, but beauty startups such as Glossier, The Ordinary, Milk Makeup, and Glow Recipe skyrocketed largely due to their branding. Glossier specifically, received $52 million in Series C funding earlier this year, for a total of $86 million.
As an article on AdWeek says, "Is it going to look good in a selfie?' The answer to this question can make or break a modern brand. With good reason, too: the way a product is going to be discovered, shared, talked about and bought today is more important than the product itself."
There is Beauty in Simplicity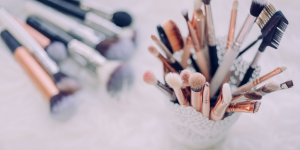 Minimalistic designs are especially popular. For an industry trying to channel simplicity and transparency, having a look to match makes sense. For indie retailers looking to beef up beauty sales, check with your local suppliers to see if they can accommodate private labeling. Having your own cohesive look is a super powerful way to promote your store and adds an element of exclusivity.
The Future of Beauty is More than Skin Deep
Shopping for beauty products is an inherently experiential process. The goal for many shoppers is not just to look a certain way, but also to feel good about themselves. Retail tech that enhances the beauty shopping experience has advanced tremendously over the past few years, and will only continue to push the category's growth forward.
For example, facial recognition technology helps mobile shoppers test products before buying. Unlike apps where you upload a photo, this technology uses your cameras and augmented reality to test out different looks and color shades, similar to the way a Snapchat filter operates. This feature is important because it takes away a lot of the guesswork for online shoppers. As retailers know, uncertainty can lead to cart abandonment, excessive returns, and lost revenue.
Beauty retailers are using similar tech to create an interactive experience in-store. Diagnosing skin types for skincare products, tutorials for new makeup, and the ability to test out multiple looks without physically applying and removing multiple layers of makeup are just some of the benefits that keep in-store shoppers engaged.
Emotional customization is the next step. Customers want to know not just how the products make them look, but also how beauty products make them feel. When talking mood makeup, this isn't just lipstick that changes colors like a mood ring. Anything from perfumes customized to your personality to eyeshadow pallets based off your Myers Briggs personality, mood recognition is just as important as facial recognition.
The indie beauty market has rapidly matured into one of the largest categories within beauty, according to Glossy. Justin Boettcher, senior strategic businesses development leader at Amazon said at the BeautyX Retail Summit, "Indie beauty is definitely a big focus for us." As in independent retailer, it should be a big focus for you, too.