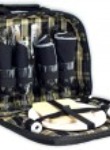 For a company that's only two years old, Outdoor Active Gear has carved a nice niche for itself with a specific market. "We started out selling tailgating gear and it just took off from there," says company business manager Ethan Zuhl. OAG sells not only products to make a tailgating party perfect, but also chairs, backpacks, coolers, tables and seats to complete the experience. "Surprisingly, many of those we sell to are reselling on eBay," Zuhl says with a laugh.
Available online at OutdoorActiveGear.com, the company features the list price of all its items, but wholesalers get a 60% discount. "Those who want the wholesale price need to show us a reseller's certificate," Zuhl says. "But all they have to do is fill out an online form, and once approved they can then order direct from us." OAG currently carries about 40 different items for an outdoor lifestyle, and plans to offer six new products starting in January. "The new lineup includes a tailgating cooler that holds three cans in front; a cammo shell bag with pockets; the Airflow X-mesh chair; a new tailgate pack that holds a bottle with glasses; a barrel-type duffel bag; several large gray totes that are insulated inside; and a golf bag made of faux leather complete with five tees and a divot punch," Rudolph says. Pricing has not yet been finalized.
There is no minimum order for products from OAG, and discounts are available for larger quantities.
For More Information:
Outdoor Active Gear
7108 Crossroads Blvd. Suit 307
Brentwood, TN 37027
Tel.: 615-624-GEAR (4327)
Website: www.outdooractivegear.com