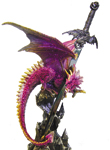 There's a huge market for knife and sword collectors, which puts Pacific Solution Marketing in a great position. The Ontario, CA based company imports more than 3,000 different products from its own manufacturing and export company in China, and wholesales to retailers across the U.S. "We sell to gift shops, specialty knife shops, flea market vendors and even some sporting goods stores," says Peter Lee, marketing manager. "Our line has grown so large that we recently moved into a 30,000 square foot warehouse that's packed to the ceiling," he adds.
Presenting at the ASD Show in March, Pacific Solution unveiled its new line of dragon themed polyurethane statues with daggers. "They're freestanding statues that start at about eight inches high and go as large as 18 inches," Lee says. "The dagger or sword that the dragon holds is miniaturized and removable, and many people use it as a letter opener." Depending on size, the statues wholesale from $3.95 to $9.95, and they retail for $20 to $70 each. "They're really beautiful, handcrafted, and in full color," Lee says. "The dragon line is our current best seller."
Pacific Marketing is also finding high interest in its handmade Knight in Shining Armor statue, which stands about 18 inches tall and comes with a small drawer, suitable for jewelry or keys. The knight wholesales for $19.95, with an MSRP of $49.99. Minimum orders from Pacific start at $200, and retailers can sign up online with their contact info and tax ID to see the company's full line and wholesale pricing. POP posters for Pacific Solutions' handmade samurai sword series are available, and several lighted turntable displays are also available. "With our weekly specials and email blasts to customers every other week, it's worth getting to know us," Lee says.
For more information:
Pacific Solution Marketing, Inc.
1220 East Belmont St.
Ontario, CA 91761
Tel.: 909-930-5845
Toll Free: 877-810-4643
Website: www.pacificsolution.com