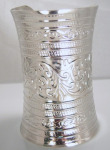 Pampered Princess has been in business for two decades, dating all the way back to when owner Sharee Kowalski started selling jewelry out of the trunk of her car. A mother of four children, she worked her early business schedule around them, going out for a day or two per week to sell her items. From the start, customers were interested, and also loyal–she still has original customers from 20 years ago buying from her today.
"I was selling to beauty salons, that's how I started," says Kowalski. "It started doing well enough to expand. I decided to do a gift show, and I think that was something that really pushed me to the next level. I did the Western New York gift show here in Rochester, and picked up some accounts of boutiques. They started buying, and little by little we grew. I put a little showroom in my basement, and they would come over and buy. Believe it or not, people don't care, they would come and buy from me from out of my basement! Then I decided a year and a half later that I would open a store, and it would be just for wholesale. From there, I got more customers, and this past year I opened up the website. I have an online store now. And I moved out of the original place–I'm in a bigger place, as of January this year. My business has just boomed."
The website has quickly become a very big part of the company's success. In fact, the business it currently brings in is equal to what's brought in via the showroom. Yet Kowalski is still loyal to those original customers who have been loyal to her, putting things in consignment for them. She's been so busy with her growing business, that she has hired someone for that specific purpose, rather than disappoint anyone who wants to carry her merchandise.
When it comes to what sets Pampered Princess apart, it all comes down to quality, according to Kowalski.
"What I hear over and over again is that they love my stuff," she says. "They think it's different, they think the quality is great, and they do well with it. They keep saying my stuff is what sells–I hear that all the time. People call and they say, 'you have the best jewelry, people always ask for your jewelry.' In my showroom I have my logo, Pampered Princess, on my jewelry, so their customers come in and say, 'we don't want this jewelry, we want Pampered Princess jewelry!'"
The past year, bracelets have been the hot item at Pampered Princess. Necklaces are always top sellers, inspirational jewelry is popular, and the beaded crystal is bigger than ever.
"The tri-color jewelry, the silver-copper-gold combination I do very well with," says Kowalski. "People are looking for really tiny pieces, others want big statement pieces. I try to carry a little of everything, to keep everybody happy."
Contact:
Pampered Princess
159 Kearney Drive
Rochester, NY 14617
Ph: 585-266-7040
Website: www.shoppamperedprincess.com