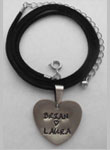 Sun Fashion Designs is a jewelry company dedicated to wholesaling a fashion forward line of high quality gold and silver plated jewelry, including rings, pendants, chains, earrings, brooches and charms. Hot on the heels of its successful ring stamping program, the company recently introduced a pendant stamping program. While stamping pendants per se is not a new concept, pendants of this quality are. "The pendants that have been available up until now are very poor quality and not appropriate to wear when dressed up or going out," Brian Nelson, sales manager, explains. "We have created an elegant line of pendants in several shapes, including a heart, circle and dog tag. They are made of 316-stainless steel, which offers superior corrosion resistance and is hypoallergenic, and they can be stamped using our inexpensive machine."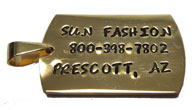 With the professional look of laser engraving, the pendant stamping machine creates evenly spaced characters on straight lines. "Our pendant stamping machine produces a sharper, deeper and more contemporary looking impression than with engraving," Nelson continues. "Most professionals find it more precise than trying to stamp by hand. In addition, the impressions are deep enough so you can color the impressions with any color." Sun Fashion Designs provides unlimited support and consultation with implementing stamping into your product line.
Subtle to trending color options abound
Sun Fashion Designs' pendants are available in a wide variety of finishes, including high polished and matte finished, and come in a variety of styles including silver, silver with gold edges, black edges, gold and solid black. They can be colored in using a variety of trendy hues such as lime green and hot pink. "We offer enough variations so retailers can accommodate anyone's tastes," Nelson points out. "The silver heart with gold edges is a lovely gift for a mom, and guys really like the solid black dog tags."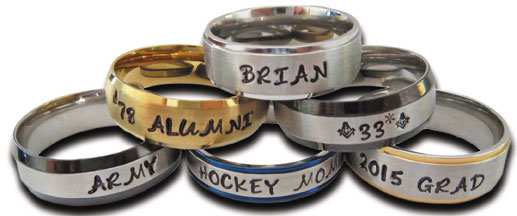 Sun Fashion Designs assists vendors with determining a pricing schedule that fits their markets. Stamped pendants typically retail for $30 and up, and retailers often sell them at malls for $50 and up. At the higher price point, sellers often include a neck chain. Sun Fashion Designs also provides a large variety of neck chains to complement whatever style pendant is chosen.
The stamping methodology, just like Sun Fashion Designs' ring stamping process, is easy to learn and use. Retailers can get started with the full kit, which includes everything a retailer needs to get set up, and sells for $799. The kit comprises a pendant stamping machine; letters A through Z, numbers zero through nine, a hyphen and forward slash, an ampersand, an asterisk, a hammer, a paint pen, 100 pendants of your choosing, point of purchase materials and practice pendants. For those who already have a set of stamps, the kit can be purchased without stamps for $499. Retailers who are presently doing stamping can purchase components separately, as Sun Fashion's pendants can be stamped by hand or use other stamps as well. The machine is also capable of accepting different sized stamps.
Stamping and keepsake rings a big hit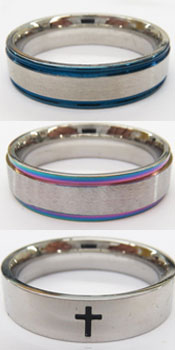 Sun Fashion Designs' hypoallergenic rings are made of 316-grade stainless steel and produced in a variety of colors. The newest concept in the stamped rings circle is keepsake rings. Customers purchase rings in small sizes stamped with their child's or other loved one's name, and wear them on a necklace. Sun Fashion Designs offers a stamping kit that wholesales for $865. It includes the stamping machine, 100 rings of their choice, letters A through Z, numbers zero through nine, a hyphen and forward slash, an ampersand, an asterisk, a hammer, a paint pen, a ring measuring stick and a ring sizer. The machine is incredibly easy to use, and on average it takes less than one minute for a seller to personalize a ring. Stamped rings wholesale for less than $2, and often retail for ten times the wholesale price, and more for keepsake items.
A few other popular Sun Fashion Designs selections include cubic zirconia rings, earrings and pendants, often set in a micro pave style; gold plated and silver plated pendants; and chains as well as chain by the inch. The company also offers the gold and silver wire supplies for wire crafting businesses, and has low minimum orders.
For more information:
Sun Fashion Designs, Inc.
3220 Tower Drive
Prescott, AZ 86305
Toll Free: 800-398-7802
Website: www.sunfashiondesigns.com