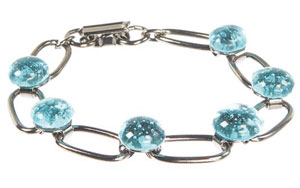 What girl doesn't love a good treasure? Peppermint Charms by Shari Peressini are one-of-a-kind recycled pieces of jewelry people can wear for any occasion. Each piece is made from 1923-1933 era Ball® Mason jars that are kiln-fired to perfection to create dangle earrings, studs, bracelets, and many different sizes and shapes of pendants.
"I love anything vintage, so to be able to wear a piece of the past was just so exciting and appealing to me," said Shari. "I love customer reactions when they realize what the 'stone' is made from. I call them 'memories you can wear' because many of us have such fond memories of certain items that brings us joy."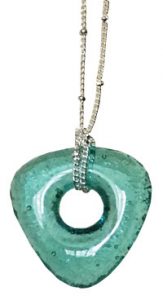 Shari also creates recycled teeny tiny glass vials full of magical things. She adds beach sand, German glass glitter, dandelion 'wishies,' mustard seeds, and sprinkles in the bottles. Each one is lead-free, silver solder sealed. A charm is then added to complete the story of this super cute necklace. Your customers are guaranteed to smile when they pick out their hand-crafted goodies.
Starting Peppermint Charms in 2009, Shari wanted to create jewelry that couldn't be found anywhere else, which is why she chose Ball® Mason jars from the 1900's. Her jewelry is perfect for any boutique or retail shop because you won't be able to find her products anywhere else, which will satisfy your customers in knowing they are buying a truly unique item. She is constantly coming up with new treasure to make, so be sure to keep in touch.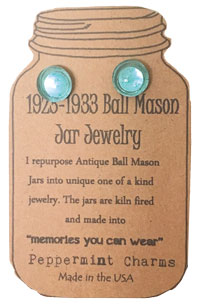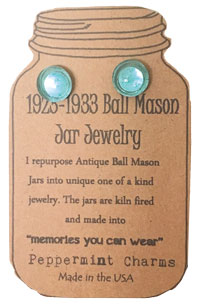 Located in Vancouver, WA, Sheri mainly sells through Etsy but also offers wholesale pricing. Start selling her unique jewelry today. You can see samples of her handcrafted items on her website www.peppermintcharms.com.
Peppermint Charms
105 S. Adams Street,Vancouver, WA 98661
Tel.: 360-695-0881 or 360-521-7754
Website: www.peppermintcharms.com
Facebook: Peppermint Charms