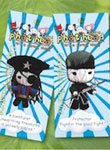 Phat Head Gang keychains are now available from Evergreen Marketing Inc. They feature handmade string dolls, each with a unique name, personality and motto. The keychain characters are "Pretty, Hot and Tempting," as the name "Phat" implies, for both youngsters and adults. "No two of these collectible dolls are exactly alike," states Joe Pachino, president of the company.
The dolls are offered in 49 varieties, including ballet dancer, ninja, pirate, hula dancer, lacrosse player, policeman, doll with a broken leg and cowboy. Cowboy Caleb's wise motto, for example, is, "Don't squat on your spurs." "The beauty of this line is that there are so many different characters, there is something relatable to everyone," Pachino remarks. Dolls range in length from two to three inches, and the intricate string wrap pattern of the head and bodice are made of high quality materials. "The body and limbs twist and turn, so the dolls can be manipulated," Pachino points out.
Every keychain is attached to a blue Starburst 2.5″ by 5″ pegged card. The wholesale price is $3.46 per piece with a suggested retail of $6.95. Three display packages are available: the point-of-purchase display holds 72 units; a countertop display offers 144 units; and the floor display holds 436 pieces. A 20-unit sample pack is also available. Visit Evergreen Marketing's website for details.
For more information:
Evergreen Marketing Inc.
6 Moonspun Ct., 2nd Floor
Baltimore, MD 21208
Toll Free: 800-296-2596
Tel.: 410-653-2596
Website: www.wholesalecentral.com/Evergreen