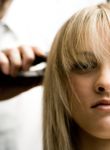 THE LINE: This company supplies a line of hair straighteners for professional salon use, as well as for home use. It also offers other products, including hair dryers, hair curlers and hair care products. Most hair straightener irons offer ceramic coated plates. PHI Beauty's irons are solid ceramic plates that are then coated with tourmaline, a mineral that is considered a gem. Tourmaline technology creates negative ions and far-infrared heat. The negative ions seal the hair cuticle, essentially eliminating frizz. The far-infrared heat penetrates the hair shaft from the inside out, straightening the user's hair quickly with the least amount of damage. Its flat irons come in three colors, including pink, black and grey.
Minimum Order/Pricing:
These irons have a suggested retail of $69.99. There is no minimum order. For wholesale pricing, you have to order at least one case or 12 irons. Wholesale pricing is available upon request.
Literature:
All products are shown on the website and PHI offers testimonials from actual users, a before and after gallery of photos, fashion links, and helpful hair and beauty articles.
Special Features:
These flat irons offer many special features to help the user get her hair just as she wants it. The Ceramic/Tourmaline ion plates emit up to six times more negative ions to better seal hair cuticles; the new infrared heat technology seals in hair moisture and luster. The unit heats up in less than 30 seconds, unlike other flat irons on the market; it has a fixed temperature of 407 degrees Fahrenheit, and has an easy to use ergonomic design that makes it easy to flip, curl, press or hold the hair. It is ultra lightweight at only one pound, and offers 120v/60Hz for use in the U.S. or Canada. It offers a nine foot swivel cord to prevent tangling, and there is a one year warrantee.
Management Says:
"The Ceramic/Tourmaline ion plates are a new innovation with the product. Tourmaline is a precious gem, and it puts out infrared rays, which are good for the user's hair. What those rays do is shrink the moisture molecules and lock them into the hair. Therefore, the user's hair will be shinier and silkier."- Ryan Pattee, co-owner.
PHI Beauty
1302 East Main Street
Waukesha, WI 53186
Toll Free: 866-218-8440
Tel.: 262-446-3124
Website: www.phibeauty.com